Read my complete experience series of TechEd 2011, Bangalore
TechED 2011 – Bangalore – An Unforgettable Experience – Day 0
TechED 2011 – Bangalore – An Unforgettable Experience – Day 1
TechED 2011 – Bangalore – An Unforgettable Experience – Day 2
TechED 2011 – Bangalore – An Unforgettable Experience – Day 3
TechED 2011 – Bangalore – An Unforgettable Experience – Day Next
Day 2 – March 24, 2011
I woke up once again at 5.00 AM as I was planning to leave at 6.00 AM. While I was heading towards the venue, I was thinking about the remaining day ‑ a very eventful day indeed! There were many things lined up and I had not yet reached the venue. Anyway the day started on a good note. I met my MVP friends in the lobby and did not realize that I talked with them for more than 2 hours. I finally went to attend the keynote, but the hall was quite full. I was directed to another room, where live streaming was happening. Live streaming was equally exciting.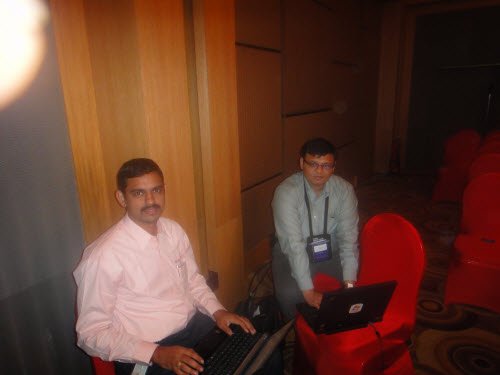 I headed towards Database Business Intelligence Track. I enjoyed the new concepts of BI. I also attended Beauty of the Web track and enjoyed one HTML5 and IE9 track. Following are the sessions that I attended.
Rushabh Mehta presented on Semantic Model of SQL Server Denali – it is very new concept and the attendees surely had a great time.
Harish Vaidyanathan presented on "HTML5" – more than just HTML5 – what a fun session it was, I did not know that through HTML, one can have so much fun.
After attending the sessions, I headed right away to the keynote hall. There was going to be Demo Extravaganza, where I was about to present on "Spatial Database". Spatial Database is interesting concept and I was encouraged immensely by the response and appreciation for the same concept. Though no one noticed, let me share one secret with you regarding this. Even the attendees did not notice this; I actually presented more tricks than what I had initially planned. It was fun that in front of 3000+ people I was able to  show new feature of SQL Server. I had two great Demo Extravaganza hosts – Harish V and Nahash – and it was really fun to be on stage with them. They were really fun to be with, very important, and excellent supporting hosts.
After the Demo Extravaganza, I attended community party. It was really gala time to meet friends like Sanjay Shetty, Abhishek Kant, Abhishek Baxi, and all the MVPs. Lots of people attended this event. I had fun time hanging around with fellow MVPs and Community Leaders. I think we should have this type of meetings quite often to keep the community spirit going.
I wanted to head home early as I had two sessions to present next day. Even though I was all ready with my presentation, I was slightly nervous. As you know Murphy's law – if something can go wrong, it will go wrong – and this holds true for anybody at any moment. When I was returning, I noticed that it was already 11 PM. I had one more hour journey back to home. I reached home at midnight, and instead of sleeping, I went back to my sessions. I practiced all the demos and all the slide decks one more time and went to bed around 3.00 AM in the morning. A long day was already over, but about the next day was about to get started in the next 2 hours.
Moreover, an exciting World Cup quarterfinal match was taking place between India and Australia that. Despite this, I found that the event was house full! In case you are wondering of the results, India won in the exciting game. Indian bowlers and batsman indeed did a fantastic job on the ground.
Reference: Pinal Dave (https://blog.sqlauthority.com)