Read my complete experience series of TechEd 2011, Bangalore
TechED 2011 – Bangalore – An Unforgettable Experience – Day 0
TechED 2011 – Bangalore – An Unforgettable Experience – Day 1
TechED 2011 – Bangalore – An Unforgettable Experience – Day 2
TechED 2011 – Bangalore – An Unforgettable Experience – Day 3
TechED 2011 – Bangalore – An Unforgettable Experience – Day Next
Day 1 – March 23, 2011
After my 3 hours of power sleep, I was up before 5.00 AM. I got ready and headed to TechEd Venue. Even though it was pretty early and very dark, it took me around 45 minutes to reach the venue from my home. When I reached there, I met Vinod Kumar, who had reached there before me. We talked a bit; I had a chat with my manager, and then moved very quickly to location where database track was about to happen. Everything seemed alright at the location; so, I once again headed to the Hotel Lobby as I was expecting many other friends to be there.
I met so many people there and I almost lost count of them. I had great pleasure meeting Abhishek Kant (MVP Lead) once again. We shared a few words with each other. After couple of calls, I finally spotted Jacob Sebastian – SQL Server MVP and a very close friend. Jacob and I both worked together in the Ahmedabad community. We worked together in almost every event that happened in the Gujarat region. Jacob and I talked for about an hour and headed towards Keynote. We had excellent key note speakers and cheered at the new technology announcements.
When I returned from keynote, I met Rushabh Mehta (PASS Global President and Solid Quality India CEO). I talked for a while with him regarding SQL PASS community. It is always a pleasure to meet him as he has such an interesting vision for PASS for India. Along with few friends and SQL Professionals, I headed towards, Database Development Track. I am a database guy, and I am very interested to hear others who are talk about SQL Server.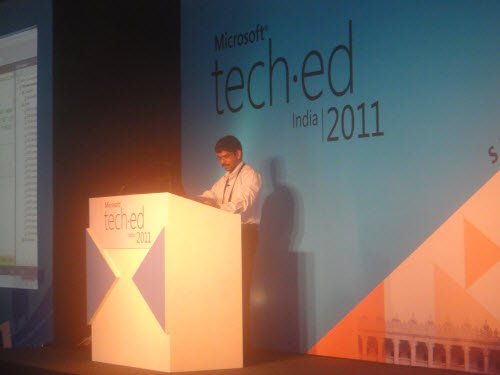 I attended all the sessions in this track. However, there are two tracks which kept me on edge as I came across some new and useful information.
Jacob Sebastian presented on 'T-SQL Worst Practices' – I really enjoyed it as it talked about what not to do in reality.
Vinod Kumar presented on 'Unexplained of SQL Server Security' – I learned a few new things over here.
After these sessions, I also went and participated in Chalk Talk of '100 TB Migration' subject. It was fun to attend the questions and talk to people.
Well, the day ended with partying. It was a speaker party, and all the Microsoft biggies were attending the same. This great place brewed with some intelligent conversations ‑ in short, a wonderful party and a good place to meet great people.
Right after the party, I headed towards keynote area which could accommodate more than 3000 people. I went there and did a dry run of the my Demo-X for next day.
When I was returning home, I noticed that it was already 11.00 PM, and there was an hour of journey to reach home.
Nupur (my wife) and Shaivi (my daughter) were already asleep when I returned home. I had not talked to Shaivi the whole day – and I felt slightly guilty for the same.
Reference: Pinal Dave (https://blog.sqlauthority.com)