Action-packed day 2 of TechEd India is over, and I feel that today was even better day than day 1. So many things were going on simultaneously and keeping track of them is a hard task. Even today I got the chance to meet some renowned industry leaders. Apart from having real time conversation with Industry Leaders, I had a great time attending the various Tech Sessions.
Highlight of the day was Vinod Kumar's session on "Reducing the size of your database using Data Compression/Binary Compression in SQL Server 2008". Vinod commenced this session by bringing forth some causal questions to enliven the atmosphere, and then he smoothly and quickly converted the session into a hardcore technical session. If you have attended any of the previous sessions of Vinod Kumar, I am sure you must be aware of his unique style, which keeps users engaged in the story of SQL. Every user attending the session can relate to his stories and feels as if his/her story is being discussed.
Abstract of the session
"SQL Server 2008 provides you with native data compression feature for your tables, indexes and partitions that can significantly reduce the size of your database. A smaller database can lead to better performance for IO bound loads, reduce memory requirement and the manageability cost (e.g. backup/recovery) of your database. This session describes how SQL Server compresses the data in SQL Server, common usage scenarios and its impact on the workload."
This session was heavily attended and applauded by every attendee.
Today, a community event was organized in the evening. There were separate meetings of SQLPass, Ineta, and Culminis. There was yet another big event where all the three community groups together addressed all the participants. This great event was an enriching experience where we got to learn about several unknown but useful facts. I was actually in awe to see the deep understanding of  community services of these leaders and their ability to pull such large scale session successfully.
The day was marked by another follow-up community party where there were numerous opportunities to do networking with Microsoft Product Team, Evangelist, Community Leaders, and Active Participates. I had another session with Vinod Kumar who explained how one can conduct better presentation without getting self-conscious. This event was restricted and by entry only. I along with my other friends – Nauzad and Suredra – monitored that nobody got into the room without the entry procedure. While we were standing there trying to stop unauthorized entries, a guy shouted "SQL Bouncers" while passing by. Doesn't matter! We did our job well!
I also had a good time exploring community stalls and displays that were available at TechEd. I met one of the interesting hosting companies, whom I was not aware of before. I also checked out the booth of computer magazines.  I wanted to purchase a book but was quite taken aback to know that none of the computer magazine stalls had the facility to let people purchase or sign up for subscription.
One important thing I would like to mention about is today's Keynote. It was done by Resul Pookutty, Academy Award Winner-Film Sound Designer of Slumdog Millioner. He explained how technology is involved closely with Sound Designing. An important reason why his session was well attended was because of his recent fame and interesting subject.
Even on the second day, I gave several autographs. Now, I have actually lost the count! In the community zone, there were so many giveaways that it became difficult to manage public. Microsoft is developing robotics-related programming language, and it has created its demo model – Microsoft Sam. It was a great fun for all of us to play with this tool.
One thing I will always remember about this event is that I got to meet several great people under one roof. I will soon pen down our discussion summary. On the other note, I really enjoyed the massage on chair!
Day 2 ended with my friends, Niraj, Suprotim and Geetesh, at one of the very famous restaurants in Hyderabad -"Chatneys". We discussed on varied topics, ranging from current economy, MVP advantages to blogging. Our discussion was very productive and what made the discussion more interesting was the scrumptious food!
Take a look at the photos of other industry leaders.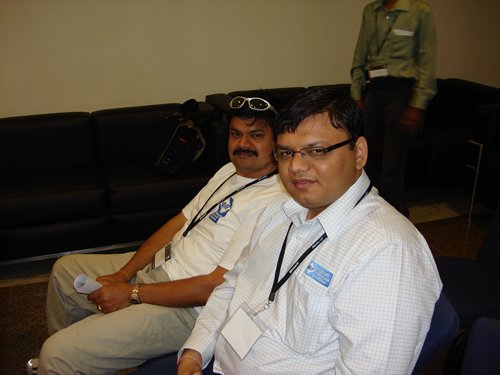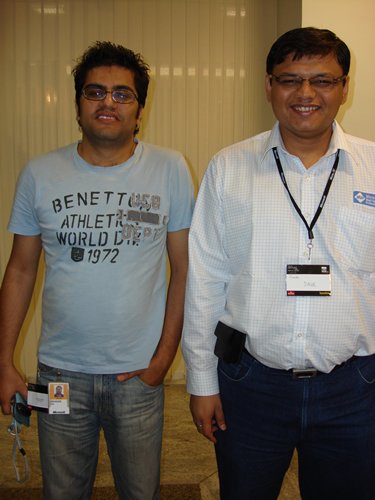 Please do follow the whole event live on my Twitter.
Reference : Pinal Dave (https://blog.sqlauthority.com)