Day 2 of MVP Summit 2009 was filled with Back to Back Technical session. However, due to NDA I will be not able to share the details about the session. I even verified that I can not even post the title of the session which I have attended. I can only talk general details about the event.
In one line – "It is one GREAT event!" Interested readers can read about MVP event schedule here : Agenda of Microsoft MVP Summit 2009. It was the best day for me as I was chosen to have honor by fellow MVP for one of the most helpful MVP for last year. (Read Last Paragraph)
While we are attending this excellent tech sessions all of us did not miss a bit when we can have fun. In morning I meet four cool persons, about whom I can not resist blogging. I have met many experts yesterday as well and will many more tomorrow. I plan to write about all of them as I go. Today as I could not write much about sessions I have written about SQL Server Heroes, I meet.
Steve Jones – He is founder of and one of the most friendly MVP you ever meet. I am totally impressed with his down to earth personality but superman like SQL skills. A true leader and above all a person worth meeting. I really wish I can be as successful like him one day.
Ross Mistry – He never stops surprising me. He loves to write easy but interesting SQL Server books and I love to read them. I have written review about the same SQLAuthority News – Book Review – SQL Server 2005 Management and Administration. Ross told me that he has copy of his new book with him and he will share that with me tomorrow. He even promised that he will autograph it for me too. Let us see if I get the book or surprise (by not getting the book!).
Glenn Berry – He is lead author and SQL Expert at https://sqlserverperformance.wordpress.com/ . He works at leading feed aggregation organization NewsGator. Glenn is totally people's person and enjoy discussing complex problem with fellow developers. He is the one who introduced me to many SQL Gods here. One thing, I am going to learn from him is how to manage a truly gigantic database with zero second downtime. He is one expert who can tell you how you can make most of your limited resources. I assume, people like Glenn will always have safe job because he is most needed when recession hits company. We can hire one Glenn and save 7 other developers money.
Michael Coles – I always thought this guys is very older person from his writing, but in fact he is vibrant young man. His writing is very mature and very good. He is expert in XML, the technology I am not such big fan of. He is one author who has made XML and SQL a piece of cake. His attitude about XML is very simple, he does not force users to use XML but merely suggests why you need XML, where you need XML and how you can use XML. A approach which I am myself big follower of. I have previously reviewed his book SQLAuthority News – Book Review – Pro T-SQL 2005 Programmer's Guide. I have requested Michael to send me latest book and he will send me once I go back to India. Besides SQLXMLer he is one jolly person.
I have met many many experts during these two days and there are many to meet yet in next day. I will be writing about all of them as I have time. I am also going to meet Satya tomorrow to learn more about learning about public speaking skills, as he is regular speaker at TechNet. I hope to post about the same tomorrow. Arnie Rowland is another interesting person who today advised me how to participate in MSDN forum. Arnie, I thank you for your encouragement.
At the end of the day, we had wonderful dinner at Maggianos. All the MVP were given a paper where they have to provide five names of other fellow MVP who have influenced the tech world in last one year. I was really happy when nearly 100 MVPs voted me as one of the five MVP. I humbly accepted my gift for the same and I would like to thank you all of my fellow MVP for suggesting my name. I promise all of you that I will not let any of you down and always be communities person.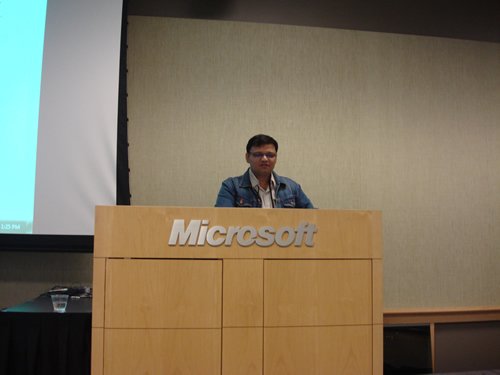 Following is my travel itinerary so far:
Feb 27, 2009 – Departing Ahmedabad to Mumbai
Feb 28, 2009 – Departing Mumbai to Seattle Sheraton Hotel
March 1, 2009 – Day 1 at MVP Summit
March 2, 2009 – Day 2 at MVP Summit
March 3, 2009 – Day 3 at MVP Summit
March 4, 2009 – Day 4 at MVP Summit
March 5, 2009 – Departing Seattle to Toronto
March 6, 2009 – Tech User Group Meeting, Markham, Canada
March 7, 2009 – Departing Toronto to Mumbai
March 8, 2009 – Missing Day due to Day Line Crossing
March 9, 2009 – Arriving to Ahmedabad
Reference : Pinal Dave https://blog.sqlauthority.com/ )