Today was the third day of MVP Summit 2009 and it was wonderful. I had my dream come true as I was able to meet Kalen Delaney – a legendary author of SQL Server and truly living SQL God. If I had not met her today, my trip to USA would have not been complete. I am awaiting for famous book Microsoft SQL Server 2008 Internals (Pro – Developer) to release and I will be the first one to purchase for sure. I really wish if I can get early copy of the book as I just can not wait for the same.
I have found out that Ross Mistry, famous SQL Author reads my blog everyday. He read in my blog where I have asked him to give me review copy of the book with his signature (here) and yes he has done it. I am going to read the book and write my review. As per Ross he has taken all my previous criticism constructively and fixed all of them in this edition.
Business Intelligence is something always fascinates me and I am very eager to learn it. I will not miss any chance if given to me to learn this very important skill. Today was my day when I was able to meet two legendary SQL BI Gurus. Jessica M Moss is one of the very few women in technology who is expert in BI and I was fortunately able to discuss my skills with her. I realize after talking with her that I have lot to learn from her.
Rushabh Mehta is expert BI – SQL Quality Learning mentor and very known personality in the world of SQL Server. To meet person like him is one of the most unforgettable experience. I had in depth discussion about Pass Chapters in India and Worldwide. I realize that there are so many activities PASS do with Rushabh as Executive Vice President. I can say one thing about both of SQL BI Guru that I am fortunate to know them.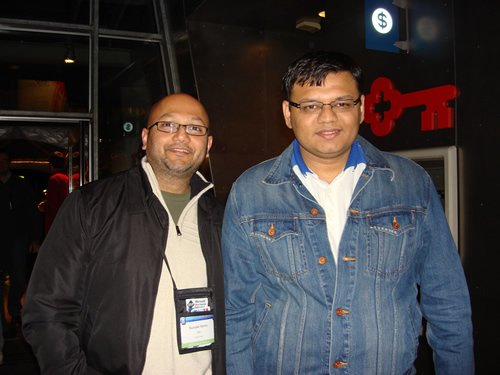 I am also thankful to our MVP Lead Abhishek Kant, who is continuously encouraging all f the MVPs to take parts in different activities and help them come forward with their independent talent. On second day of MVP Summit 2009, Jacob Sebastian won one of the award for most comments on MSDN and Pinal Dave (myself) had received one of the award for most contributing MVP for last year. Attached photographs here shows Jacob and Pinal with their gift in hand standing along with Abhishek Kant.
Last but not list, we had one very interesting party in evening. This was the night when MVP rocked. Yes, literally they all rocked. MVPs sang nearly 30 different rock songs and whole environment was full of music. We all visited Music Museum and Space Museum, due to NDA and Copyright issue, I will not write or blog about our visit to this museums. One thing I can say that if you are in Seattle, you must visit the museums besides Space Needle.
I have nearly 100+ photos of our Rock star party but many of them I will be not able to share on blog due to it will violate the privacy of MVP. Different MVPs from worldwide came out of their professional Mr. Nice guys shell and rocked whole environment with their dance and songs. I am posting following photo just for reference that how much fun we had today. There are nearly 40 photos our song and 1 video, however I am just sharing one photo which is most decent.
Under the nick name of DJ SQL aka Michael Coles lead our rock band. Allen White, Pinal Dave, Rick Heiges and our favorite Steve Jones (blog) were cheerSQL for Michael. The song was awesome but the most interesting was our cheering dance. I funny and hilarious video for the same but it is for private viewing only and will not be shared. If you find copy of the video online please notify me and I will act on it immediately.
Believe me today was very one of the most eventful day as we had some great tech session in morning, which followed up by meeting with some smartest BI people on planet Earth. The party was rocking with Museum visit, networking and our cheer dance.
Tomorrow is last day of my four day long MVP Summit and I am very sad that is about to end soon. I will have some good information to share with all of you tomorrow.
Following is my travel itinerary so far:
Feb 27, 2009 – Departing Ahmedabad to Mumbai
Feb 28, 2009 – Departing Mumbai to Seattle Sheraton Hotel
March 1, 2009 – Day 1 at MVP Summit
March 2, 2009 – Day 2 at MVP Summit
March 3, 2009 – Day 3 at MVP Summit
March 4, 2009 – Day 4 at MVP Summit
March 5, 2009 – Departing Seattle to Toronto
March 6, 2009 – Tech User Group Meeting, Markham, Canada
March 7, 2009 – Departing Toronto to Mumbai
March 8, 2009 – Missing Day due to Day Line Crossing
March 9, 2009 – Arriving to Ahmedabad
Reference : Pinal Dave (https://blog.sqlauthority.com)