During the recent consulting engagement Comprehensive Database Performance Health Check with SQL Server 2017/2019, my client's DBA asked me that they want PID for free editions of SQL Server. In this blog, I would share my findings and Product Key for Developer Edition, Enterprise Evaluation Edition, and Express Edition.
As you might already know these facts but those who don't know, let me reiterate in simple terms.
Enterprise Evaluation Edition is a free (for 180 days) edition. All features are the samPorducte as Enterprise Edition.
Express Edition is a scaled-down edition of SQL with some limitations but allowed for production use.
Developer Edition is a free edition (starting SQL 2016 onwards) which is allowed only for development but not for production purposes. All features are the same as Enterprise Edition.
If we install these editions using setup wizards, then we can choose them in the below screen.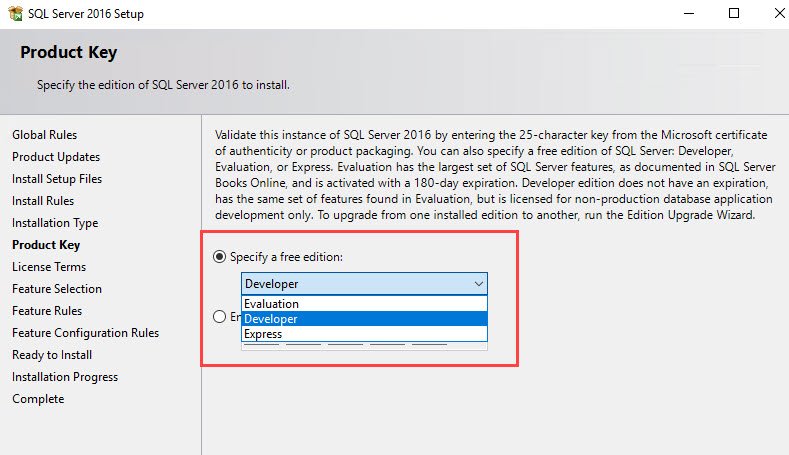 How would you specify them in the command line? Based on my trial and error, I found that if we want PID for these free editions then here are the keys that can be used.
Product Key
Evaluation: 00000-00000-00000-00000-00000
Express: 11111-00000-00000-00000-00000
Developer: 22222-00000-00000-00000-00000
Once you enter these values and press "Next" then you can verify and see the edition in the next screen which shows License Terms. This would be useful when you want to deploy using a script or command line.
Here are a few additional blog posts on a similar topic which you may find it helpful:
SQL SERVER – Evaluation Period Has Expired – How to Activate SQL Server?
If the SQL Server engine is expired, the SQL services would not start and you will find below error in SQL Server error log and event viewer. Here is the blog to find a SQL ERRORLOG file location.
SQL SERVER – Understanding Licensing Models
SQL Server is available under three different licensing models.
Reference: Pinal Dave (http://blog.SQLAuthority.com)