The second day of PASS started with very engaging and it started with an original game invented by Stuart Ainsworth. This game involves finding twitter people in real life. As I was not one of the square in bingo, I had decided to participate in game myself and try to win if I can. During this process, I felt guilty that I borrowed a pen from Stuart and did not return it back. In fact, after a while someone took the pen from me and never returned it. It is true that karma pays off! I should have returned it right away.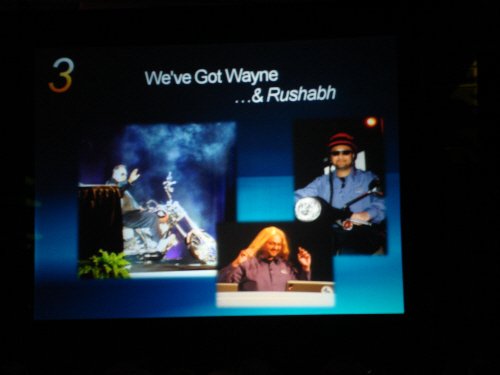 Well one very first thing in the day was having breakfast with SQL friends. I met few more celebrities and Arnie Rowland again, who is a genius and very friendly. We all headed towards Keynote at around at 10 PM. The Keynote was great; it started with very interesting details. The current PASS President presented few photos before starting the session. They are as follows:
Year 2009 PASS registration is 2,200 for the full day event
24 hours of PASS had 50,123 session registrations from 3,524 people of 70+ countries
SQL Server Standard is coming back
Microsoft's Bob Muglia talked about SQL Server on the very first day and its future, and he covered few interesting demos as well
Microsoft's Ted Kummert talked about PASS and reasons to attend PASS. He also presented few testimonies from the customers and interesting demos
Once the session was over, I headed to SQLFool aka Michelle Ufford's session on Index Optimization session. As I mentioned earlier, she is one expert who should be respected for her extraordinary skills for index optimization.
During lunch we had wonderful event called Features of Birds MVP Lunch. During this event, I talked about Change Data Capture (CDC). I was very fortunate that many people showed up at my table. I really hoped that I could have accommodated everybody; however, the table capacity was only 10. I promise to all of those who missed that I will do special online session.
Michelle's session was followed up by Jacob Sebastian's session. This session was attended by a large group of XML fans. Just like any other session of Jacob, this session was very well received, and he got a lot of good feedback. Jacob is officially the human XML.
After these two back–to-back sessions, I felt that I have learned quite a lot for one day. With that confidence, I went to exhibition hall. In the hall, I met so many really cool people whom I always wanted to meet. I also received a lot of giveaways at the expo – 9 T-Shirts, 3 candy boxes, 1 tote bag, and 2 sweet little ducks. I am sure Shaivi (my two-month-old daughter) is going to love those little ducks.
In the evening, Microsoft threw a very interesting party for all the Microsoft MVPs and it was great fun. Jacob and I were almost lost our way to the party location. We had to hire taxi to reach the location. The taxi driver asked us so many questions that we felt like we were at the prison interrogation location. However, the journey (which seemed a year long) was less than a mile! I met many friends and MS employees there. It was a very great place for interacting with everyone.
Party Evening
Overall, today went great at SQL PASS; I am eagerly looking forward to the upcoming events in the following two days.
Reference: Pinal Dave (https://blog.sqlauthority.com)