An action pack day with lots of tech session and 4 back to back Keynote sessions is over. Steve Ballmer presented one of the keynote where all attendees really felt energetic. Steve is the person who has so much energy that may be 16 year old kid feel older in front of him. Just like his style, he came in and took over complete session under his charm. I really wish, I could have shared more information but due to NDA I can not share it. It was explicitly expressed that photographs are allowed to take and publish so I am publishing them here.
After one of the best keynote, we all Indian MVP met again and had one last round of get to gather for this summit. We are expecting that we will all meet again next year. It is really great that I was able to meet some of the best technological gurus from my own country.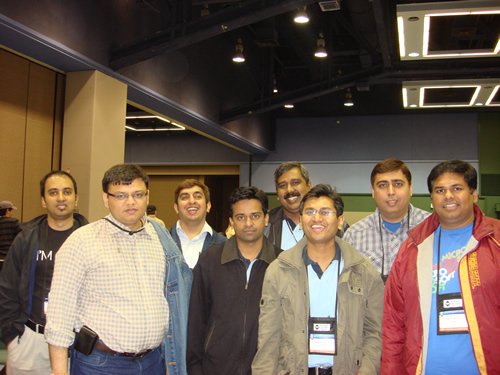 Brad MacGhee had hosted special dinner for MVPs and 15 MVPs attended it. It was very good but again due to NDA I will not share the details for the same. Brad is very good listener and he listened my suggestions, requests and questions with calm and note it down. I am sharing the photo of the event here and I will remove it if anybody objects.
I was very fortunate to meet Arnie Rowland today as well. He is one really nice person. I am personally very impressed with him from his writing and active participation in MSDN forums. Due to this I was little shy to approach him but he is one friendly man and always approached me right away. He gave me some good advise about how I can improve my skills and also do remarkably contribution to MSDN along with SQLAuthority.com. Arnie also explained me that it is very important to encourage new members of the community as one of the new member will be future MVP.
I will be now beginning my journey to Canada in next 4 hours and looking forward to meet some SQL Geeks at Toronto.
Following is my travel itinerary so far:
Feb 27, 2009 – Departing Ahmedabad to Mumbai
Feb 28, 2009 – Departing Mumbai to Seattle Sheraton Hotel
March 1, 2009 – Day 1 at MVP Summit
March 2, 2009 – Day 2 at MVP Summit
March 3, 2009 – Day 3 at MVP Summit
March 4, 2009 – Day 4 at MVP Summit
March 5, 2009 – Departing Seattle to Toronto
March 6, 2009 – Tech User Group Meeting, Markham, Canada
March 7, 2009 – Departing Toronto to Mumbai
March 8, 2009 – Missing Day due to Day Line Crossing
March 9, 2009 – Arriving to Ahmedabad
Reference : Pinal Dave (https://blog.sqlauthority.com)