TechEd India was one of the largest Technology events in India led by Microsoft. This event was attended by more than 3,000 technology enthusiasts, making it one of the most well-organized events of the year. Though I attempted to attend almost all the technology events here, I have not seen any bigger or better event in Indian subcontinents other than this. There are 21 Technical Tracks at Tech·Ed India 2010 that span more than 745 learning opportunities. I was fortunate enough to be a part of this whole event as a speaker and a delegate, as well.
TechEd India

TechEd India Speaker Badge and A Token of Lifetime
Hotel Selection
I presented three different sessions at TechEd India and was also a part of a panel discussion. (The details of the sessions are given at the end of this blog post.) Due to extensive traveling, I stay away from my family occasionally. For this reason, I took my wife – Nupur and daughter Shaivi (8 months old) to the event along with me. We stayed at the same hotel where the event was organized so as to maximize my time bonding with my family and to have more time in networking with the technology community, at the same time. The hotel Lalit Ashok is the largest and most luxurious venue one can find in Bangalore, located in the middle of the city. The cost of the hotel was a bit pricey, but looking at all the advantages, I had decided to ask for a booking there.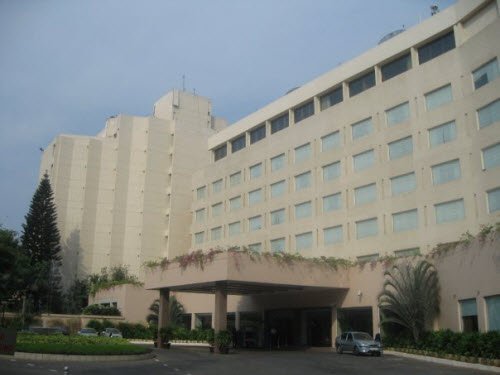 Hotel Lalit Ashok
Arrival Day – DAY 0 – April 11, 2010
I reached the event a day earlier, and that was one wise decision for I was able to relax a bit and go over my presentation for the next day's course. I am a kind of person who likes to get everything ready ahead of time. I was also able to enjoy a pleasant evening with several Microsoft employees and my family friends. I even checked out the location where I would be doing presentations the next day. I was fortunate enough to meet Bijoy Singhal from Microsoft who helped me out with a few of the logistics issues that occurred the day before. I was not aware of the fact that the very next day he was going to be "The Man" of the TechEd 2010 event. Vinod Kumar from Microsoft was really very kind as he talked to me regarding my subsequent session. He gave me some suggestions which were really helpful that I was able to incorporate them during my presentation.
Finally, I was able to meet Abhishek Kant from Microsoft; his valuable suggestions and unlimited passion have inspired many people like me to work with the Community. Pradipta from Microsoft was also around, being extremely busy with logistics; however, in those busy times, he did find some good spare time to have a chat with me and the other Community leaders. I also met Harish Ranganathan and Sachin Rathi, both from Microsoft. It was so interesting to listen to both of them talking about SharePoint. I just have no words to express my overwhelmed spirit because of all these passionate young guys – Pradipta,Vinod, Bijoy, Harish, Sachin and Ahishek (of course!).

Map of TechEd India 2010 Event
Day 1 – April 12, 2010
From morning until night-time, today was truly a very busy day for me. I had two presentations and one panel discussion for the day. Needless to say, I had a few meetings to attend as well. The day started with a keynote from S. Somaseger where he announced the launch of Visual Studio 2010. The keynote area was really eye-catching because of the very large, bigger-than- life uniform screen. This was truly one to show. The title music of the keynote was very interesting and it featured Bijoy Singhal as the model. It was interesting to talk to him afterwards, when we laughed at jokes together about his modeling assignment.

TechEd India Keynote Opening Featuring Bijoy

TechEd India 2010 Keynote – S. Somasegar
Time: 11:15pm – 11:45pm Session 1: True Lies of SQL Server – SQL Myth Buster
Following the excellent keynote, I had my very first session on the subject of SQL Server Myth Buster. At first, I was a bit nervous as right after the keynote, for this was my very first session and during my presentation I saw lots of Microsoft Product Team members. Well, it really went well and I had a really good discussion with attendees of the session. I felt that a well begin was half-done and my confidence was regained. Right after the session, I met a few of my Community friends and had meaningful discussions with them on many subjects.
The abstract of the session is as follows: In this 30-minute demo session, I am going to briefly demonstrate few SQL Server Myths and their resolutions as I back them up with some demo. This demo presentation is a must-attend for all developers and administrators who would come to the event. This is going to be a very quick yet fun session.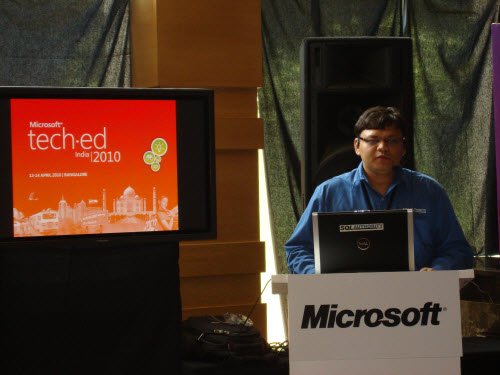 Pinal Presenting session at TechEd India 2010
Time: 1:00 PM – 2:00 PM Lunch with Somasegar
After the session I went to see my daughter, and then I headed right away to the lunch with S. Somasegar – the keynote speaker and senior vice president of the Developer Division at Microsoft. I really thank to Abhishek who made it possible for us. Because of his efforts, all the MVPs had the opportunity to meet such a legendary person and had to talk with them about Microsoft Technology. Though Somasegar is currently holding such a high position in Microsoft, he is very polite and a real gentleman, and how I wish that everybody in the industry is like him. Believe me, if you spread love and kindness, then that is what you will receive back. As soon as lunchtime was over, I ran to the session hall as my second presentation was about to start.
Time: 2:30pm – 3:30pm Session 2: Master Data Services in Microsoft SQL Server 2008 R2
Business Intelligence is a subject which was widely talked about at TechEd. Everybody was interested in this subject, and I did not excuse myself from this great concept as well. I consider myself fortunate as I was presenting on the subject of Master Data Services at TechEd. When I had initially learned this subject, I had a bit of confusion about the usage of this tool. Later on, I decided that I would tackle about how we all developers and DBAs are not able to understand something so simple such as this, and even worst, creating confusion about the technology. During system designing, it is very important to have a reference material or master lookup tables. Well, I talked about the same subject and presented the session, keeping that as my center talk. The session went very well and I received lots of interesting questions. I got many compliments for talking about this subject on the real-life scenario. I really thank Rushabh Mehta (CEO, Solid Quality Mentors India) for his supportive suggestions that helped me prepare the slide deck, as well as the subject.

Pinal Presenting session at TechEd India 2010
The abstract of the session is as follows: SQL Server Master Data Services will ship with SQL Server 2008 R2 and will improve Microsoft's platform appeal. This session provides an in-depth demonstration of MDS features and highlights important usage scenarios. Master Data Services enable a consistent decision-making process by allowing you to create, manage and propagate changes from a single master view of your business entities. Also, MDS – Master Data-hub, which is a vital component, helps ensure the consistency of reporting across systems and deliver faster and more accurate results across the enterprise. We will talk about establishing the basis for a centralized approach to defining, deploying, and managing master data in the enterprise.

Pinal Presenting session at TechEd India 2010
The day was still not over for me. I ran into several friends, but we were not able to keep our enthusiasm under control about all the rumors saying that SQL Server 2008 R2 was about to be launched tomorrow in the keynote. I then ran to my third and final technical event for the day- a panel discussion with the top technologies of India.
Time: 5:00pm – 6:00pm Panel Discussion: Harness the power of Web – SEO and Technical Blogging
As I have delivered two technical sessions by this time, I was a bit tired, but  not less enthusiastic when I had to talk about Blog and Technology. We discussed many different topics there. I told them that the most important aspect of any blog is its content. We discussed in depth the issues with plagiarism and how to avoid it. Another topic of discussion was how we technology bloggers can create awareness in the Community about what the right kind of blogging is and what morally and technically wrong acts are. A couple of questions were raised about what type of liberty a person can have in terms of writing blogs. Well, it was generically agreed that a blog is mainly a representation of our ideas and thoughts; it should not be governed by external entities. As long as one is writing what they really want to say, but not providing incorrect information or not practicing plagiarism, a blogger should be allowed to express himself. This panel discussion was supposed to be over in an hour, but the interest of the participants was remarkable and so it was extended for 30 minutes more. Finally, we decided to bring to a close the discussion and agreed that we will continue the topic next year.

TechEd India Panel Discussion on Web, Technology and SEO
Surprisingly, the day was just beginning after doing all of these. By this time, I have almost met all the MVP who arrived at the event, as well as many Microsoft employees. There were lots of Community folks present, too. I decided that I would go to meet several friends from the Community and continue to communicate with me at SQLAuthority.com. I also met Abhishek Baxi and had a good talk with him regarding Win Mobile and Twitter. He also took a very quick video of me wherein I spoke with my mother tongue, Gujarati. It was funny that I talked in Gujarati almost all the day, but when I was talking in the interview I could not find the right Gujarati words to speak. I think we all think in English when we think about Technology, so as to address universality. After meeting them, I headed towards the Speakers' Dinner.
Time: 8:00 PM – onwards Speakers Dinner
The Speakers' dinner was indeed a wonderful opportunity for all the speakers to get together and relax. We talked so many different things, from XBOX to Hindi Movies, and from SQL to Samosas. I just could not express how much fun I had. After a long evening, when I returned my room and met Shaivi, I just felt instantly relaxed. The kids are really gifts from God.
Today was a really long but exciting day. So many things happened in just one day: Visual Studio Lanch, lunch with Somasegar, 2 technical sessions, 1 panel discussion, community leaders meeting, speakers dinner and, last but not leas,t playing with my child! A perfect day!
Day 2 – April 13, 2010
Today started with a bang with the excellent keynote by Kamal Hathi who launched SQL Server 2008 R2 in India and demonstrated the power of PowerPivot to all of us. 101 Million Rows in Excel brought lots of applause from the audience.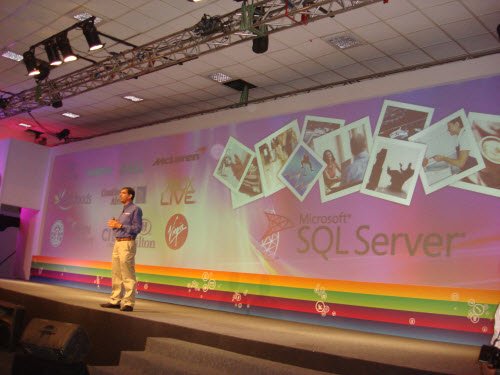 Kamal Hathi Presenting Keynote at TechEd India 2010
The day was a bit easier one for me. I had no sessions today and no events planned. I had a few meetings planned for the second day of the event. I sat in the speaker's lounge for half a day and met many people there. I attended nearly 9 different meetings today. The subjects of the meetings were very different. Here is a list of the topics of the Community-related meetings:
SQL PASS and its involvement in India and subcontinents
How to start community blogging
Forums and developing attitude towards technology
Ahmedabad/Gandhinagar User Groups and their developments
SharePoint and SQL
Business Meeting – a client meeting
Business Meeting – a potential performance tuning project
Business Meeting – Solid Quality Mentors (SolidQ)
And family friends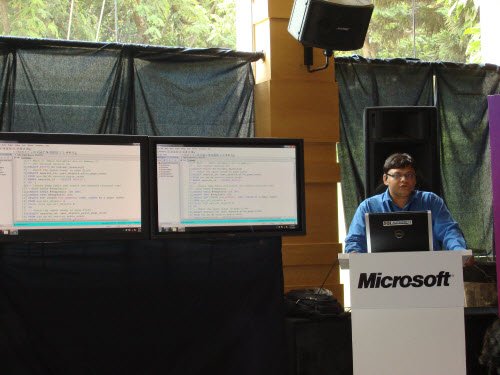 Pinal Dave at TechEd India
The day passed by so quickly during this meeting. In the evening, I headed to Partners Expo with friends and checked out a few of the booths. I really wanted to talk about some of the products, but due to the freebies there was so much crowded that I finally decided to just take the contact details of the partner. I will now start sending them with my queries and, hopefully, I will have my questions answered.
Nupur and Shaivi had also one meeting to attend; it was with our family friend Vijay Raj. Vijay is also a person who loves Technology and loves it more than anybody. I see him growing and learning every day, but still remaining as a 'human'. I believe that if someone acquires as much knowledge as he, that person will become either a computer or cyborg. Here, Vijay is still a kind gentleman and is able to stay as our close family friend. Shaivi was really happy to play with Uncle Vijay.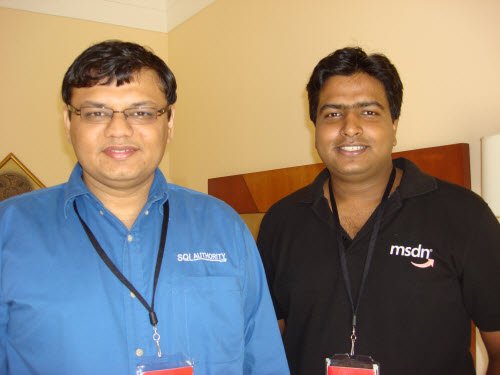 Pinal Dave and Vijay Raj
I also met L Srividya from Microsoft, whom I was looking forward to meet. She is a bundle of knowledge that everyone would surely learn a lot from her. I was able to get a few minutes from her and well, I felt confident. She enlightened me with SQL Server BI concepts, domain management and SQL Server security and few other interesting details.
I also had a wonderful time talking about SharePoint with fellow Solid Quality Mentor Joy Rathnayake. He is very passionate about SharePoint but when you talk .NET and SQL with him, he is still overwhelmingly knowledgeable. In fact, while talking to him, I figured out that the recent training, he delivered was on SQL Server 2008 R2. I told him a joke that it hurts my ego as he is more popular now, in SQL training and consulting than me. I am sure all of you agree that working with good people is a gift from God. I am fortunate enough to work with the best of the best Industry experts.
Time: 8:00 PM – onwards Community Leaders Dinner
After lots of meetings, I headed towards the Community Leaders dinner meeting and met almost all the folks I met in the morning. The discussion was almost the same, but the real good thing was that we were enjoying it. The food was really good. Nupur was invited to the event, but Shaivi could not come. When Nupur tried to enter the event, she was stopped as Shaivi did not have the pass to enter the diner.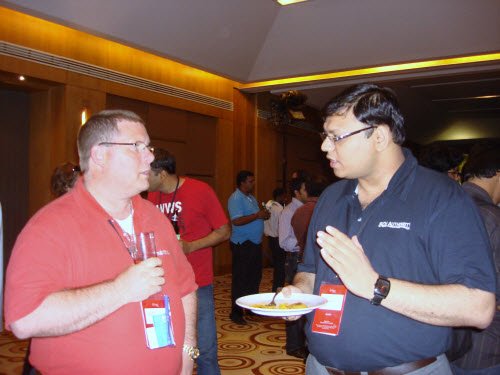 Dean Guida (Infragistics President and CEO) and Pinal Dave (SQLAuthority.com)
Day 3 – April 14, 2010
Though, it was the last day, I was very much excited today as I was about to present my very favorite session. Query Optimization and Performance Tuning is my domain expertise and I make my living by consulting and training the same. Today's session was on the same subject and as an additional twist, another subject about Spatial Database was presented. I was always intrigued with Spatial Database and I have enjoyed learning about it; however, I have never thought about Spatial Indexing before it was decided that I will do this session.
Furthermore, today was really what I call my 'learning day' . So far I had not attended any session in TechEd and I felt a bit down for that. Everybody spends their valuable time & money to learn something new and exciting in TechEd and I had not attended a single session at the moment thinking that it was already the last day of the event. I did have a plan for the day and I attended two technical sessions before my session of spatial database.
I attended 2 sessions of Vinod Kumar. Vinod is a natural storyteller and there was no doubt that his sessions would be jam-packed. People attended his sessions simply because Vinod is the best speaker. He did not have a single time disappointed audience; he is truly a good speaker. He knows his stuff very well. I personally do not think that in India he can be compared to anyone for SQL.
Time: 12:30pm-1:30pm SQL Server Query Optimization, Execution and Debugging Query Performance
I really had a fun time attending this session. Vinod made this session very interactive. The entire audience really got into the presentation and started participating in the event. Vinod was presenting a small problem with Query Tuning, which any developer would have encountered and solved with their help in such a fashion that a developer feels he or she have already resolved it. In one question, I was the only one who was ready to answer and Vinod told me in a light tone that I am now allowed to answer it! The audience really found it very amusing. There was a huge crowd around Vinod after the session. Vinod – A master storyteller!
Time: 3:45pm-4:45pm Data Recovery / consistency with CheckDB
This session was much heavier than the earlier one, and I must say this is my most favorite session I EVER attended in India. In this TechEd I have only attended two sessions, but in my career, I have attended numerous technical sessions not only in India, but all over the world. This session had taken my breath away. One by one, Vinod took the different databases, and started to corrupt them in different ways. Each database has some unique ways to get corrupted. Once that was done, Vinod started to show the DBCC CEHCKDB and demonstrated how it can solve your problem. He finally fixed all the databases with this single tool. I do have a good knowledge of this subject, but let me honestly admit that I have learned a lot from this session. I enjoyed and cheered during this session along with other attendees. I had total satisfaction that, just like everyone, I took advantage of the event and learned something. I am now TECHnically EDucated.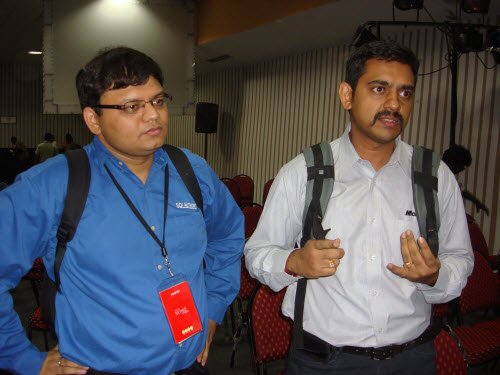 Pinal Dave and Vinod Kumar
After two very interactive and informative SQL Sessions from Vinod Kumar, the next turn me presenting on Spatial Database and Indexing. I got once again nervous, but Vinod told me to stay natural and do my presentation. Well, once I got a huge stage with a total of four projectors and a large crowd, I felt better.
Time: 5:00pm-6:00pm Session 3: Developing with SQL Server Spatial and Deep Dive into Spatial Indexing

Pinal Presenting session at TechEd India 2010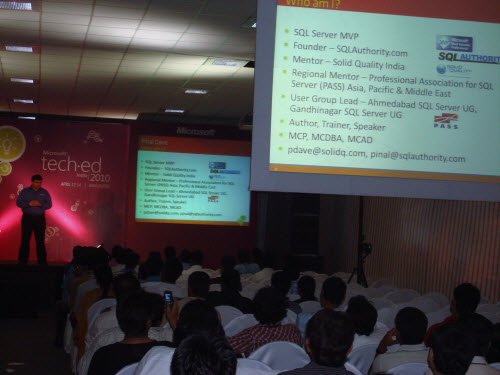 Pinal Presenting session at TechEd India 2010
I kicked off this session with Michael J Swart's beautiful spatial image. This session was the last one for the day, but, to my surprise, I had more than 200+ attendees. Slowly, the rain was starting outside and I was worried that the hall would not be full; despite this, there was not a single seat available in the first five minutes of the session. Thanks to all of you for attending my presentation. I had demonstrated the map of the world (and India) and quickly explained what  Geographic and Geometry data types in Spatial Database area. This session had an interesting story of Indexing and Comparison, as well as how different traditional indexes are from spatial indexing.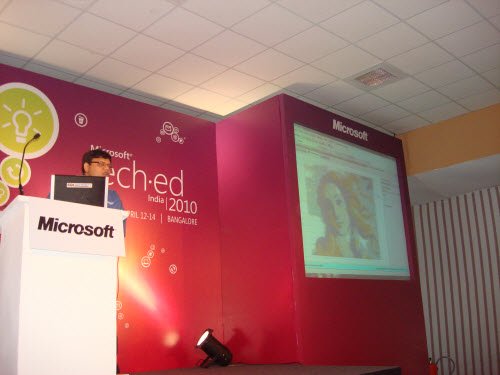 Pinal Presenting session at TechEd India 2010
Due to the heavy rain during this event, the power went off for about 22 minutes (just an accident – nobodies fault). During these minutes, there were no audio, no video and no light. I continued to address the mass of 200+ people without any audio device and PowerPoint. I must thank the audience because not a single person left of the session. They all stayed in their place, some moved closer to listen to me properly. I noticed that the curiosity and eagerness to learn new things was at the peak even though it was the very last session of the TechEd. Everybody wanted to get the maximum knowledge out of this whole event. I was touched by the support from the audience. They listened and participated in my session even without any kinds of technology (no ppt, no mike, no AC, nothing). During these 22 minutes, I had completed my theory verbally.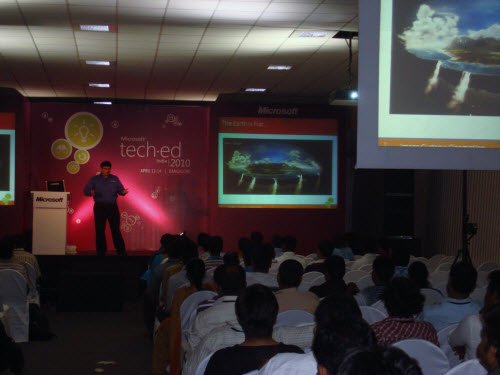 Pinal Presenting session at TechEd India 2010
After a while, we got the projector back online and we continued with some exciting demos. Many thanks to the Microsoft people who worked energetically in the background to get the backup power for the project up. I had a very interesting demo wherein I overlaid Bangalore and Hyderabad on the India Map and find their aerial distance between them. After finding the aerial distance, we browsed online and found that SQL Server estimates the exact aerial distance between these two cities, as compared to the factual distance. There was a huge applause from the crowd on the subject that SQL Server takes into the count of the curvature of the earth and finds the precise distances based on details.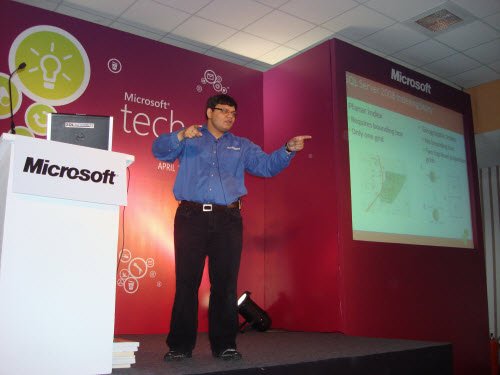 During the process of finding the distance, I demonstrated a few examples of the indexes where I expressed how one can use those indexes to find these distances and how they can improve the performance of similar query. I also demonstrated few examples wherein we were able to see in which data type the Index is most useful. We finished the demos with a few more internal stuff.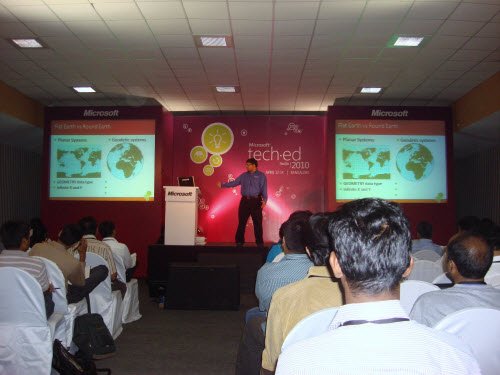 Pinal Presenting session at TechEd India 2010
Despite all issues, I was mostly satisfied with my presentation. I think it was the best session I have ever presented at any conference. There was no help from Technology for a while, but I still got lots of appreciation at the end. When we ended the session, the applause from the audience was so loud that for a moment, the rain was not audible. I was truly moved by the dedication of the Technology enthusiasts.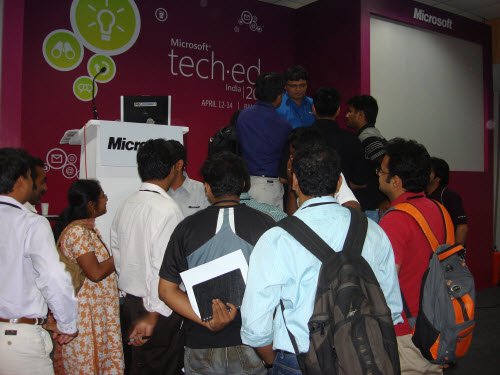 Pinal Dave After Presenting session at TechEd India 2010
The abstract of the session is as follows: The Microsoft SQL Server 2008 delivers new spatial data types that enable you to consume, use, and extend location-based data through spatial-enabled applications. Attend this session to learn how to use the spatial functionality in the next version of SQL Server to build and optimize spatial queries. This session outlines the new geography data type to store geodetic spatial data and perform operations on it, use the new geometry data type to store planar spatial data and perform operations on it, take advantage of new spatial indexes for high performance queries, use the new spatial results tab to quickly and easily view spatial query results directly from within Management Studio, extend spatial data capabilities by building or integrating location-enabled applications through support for spatial standards and specifications and much more.
Time: 8:00 PM – onwards Dinner by Sponsors
After the lively session during the day, there was another dinner party courtesy of one of the sponsors of TechEd. All the MVPs and several Community leaders were present at the dinner. I would like to express my gratitude to Abhishek Kant for organizing this wonderful event for us. It was a blast and really relaxing in all angles. We all stayed there for a long time and talked about our sweet and unforgettable memories of the event.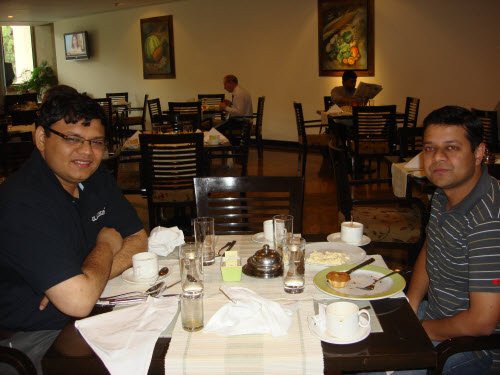 Pinal Dave and Bijoy Singhal
It was really one wonderful event. After writing this much, I say that I have no words to express about how much I enjoyed TechEd. However, it is true that I shared with you only 1% of the total activities I have done at the event. There were so many people I have met, yet were not mentioned here, although I wanted to write their names here, too. Anyway, I have learned so many things and up until now, I am not able to get over all the fun I had at this event.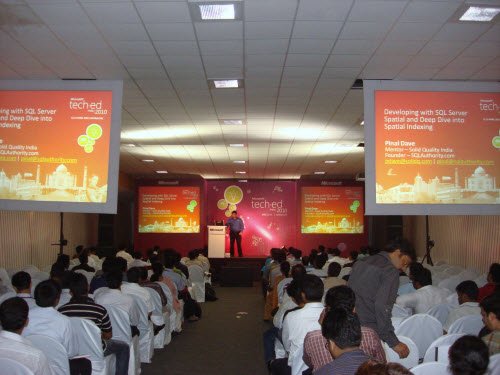 Pinal Dave at TechEd India 2010
The Next Days – April 15, 2010 – till today
I am still not able to get my mind out of the whole experience I had at TechEd India 2010. It was like a whole Microsoft Family working together to celebrate a happy occasion.
TechEd India – Truly An Unforgettable Experience!
Reference : Pinal Dave (https://blog.sqlauthority.com)