Question: How to Import a SQL Server Table Inside Excel Sheet?
Answer: Well, the answer to this question is pretty straight forward and can be easily explained with the image.
You may follow the direction in the images here to see how you can pull a table from SQL Server inside Excel.
First of all open Excel and go to the Data tab.
Now select the toolbar option Get External Data and select the option From Other Sources. Over here select the option which says From SQL Server which will bring up the following screen.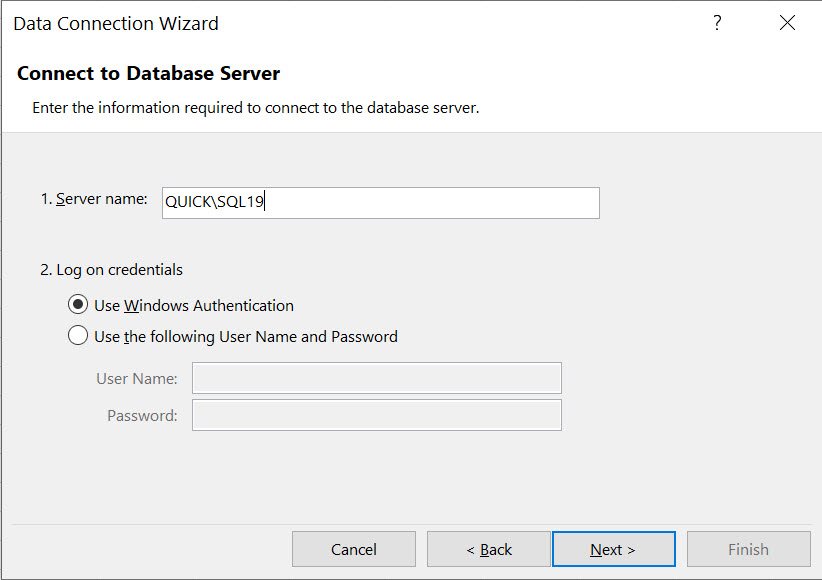 In this screen, you will have to enter your server name and authentication details. Once you provide them, click on the Next. Now it will bring you the screen as display here.
In the above screen select database and from that database select one or more tables (views) for your database. Now it will bring you to the final screen.
Over here, just give an appropriate name and click on the Finish. Once you select Finish it will bring up the following screen of the Import Data.
Just click OK and you will see the following screen where the table which you have selected inside your Excel Sheet.
Well, that's it we are done. We have successfully imported a SQL Server table inside the Excel Sheet. It is also possible to import more than one table into various Excel Sheets.
Here are a few additional SQL Server Interview Questions:
How to Solve Error When Transaction Log Gets Full? – Interview Question of the Week #272
What is Stored in TempDB? – Interview Question of the Week #271
How to Check Database Performance Facets in SQL Server? – Interview Question of the Week #270
If you have any such interview questions and answers, please reach out to me via Twitter or Linkedin and I will be happy to post an interview question and answer with due credit to you. You can also hire me to help you tune your SQL Server and all the details for the same are here.
Reference: Pinal Dave (http://blog.SQLAuthority.com)