Earlier, I wrote a blog about fixing one of the issues which I reported to Microsoft. In this blog, I would share another issue that I reported via my blog and it got fixed in the latest release. SQL SERVER – Scrollbar in the Middle – Bugs Fixed by SSMS Team. Today we will talk about Multiple Miscellaneous Option – Bugs Fixed by SSMS Team. I would like to say this is indeed the Impact of SQLAuthority and the impact of all of you readers.
Here is the original blog where I complained about having two Miscellaneous categories in database properties. SQL SERVER – SSMS 17.7 Observation – Two Miscellaneous Category in Database Property Options.
Interestingly enough, Shueybubbles replied – "it's just a bug introduced when we enabled that UI to be shown for Azure SQL DB. thanx for the notice!" (refer here)
Recently, I realized that this has been fixed and also called out in release notes of the SSMS 18.5 version.

Here are the database properties > Options in SSMS 18.5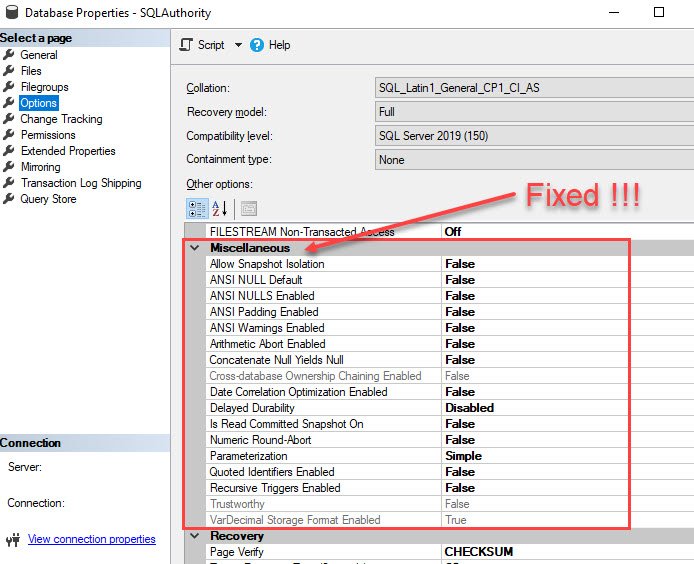 I feel so happy that this is fixed! I must say that SSMS team folks at Microsoft are indeed listening to feedbacks and most importantly working on fixing them. At the same time, I also feel sad because this was one of my favorite jokes about SSMS and it is no longer available there. But I am sure I would find something else and life would go on.
Have you reported any issue which is fixed by SQL Team @ Microsoft? Please go ahead and leave your feedback in the comments section. I am very confident that readers of this blog would like to read more about the impact which we are creating for the product we love the most.
Reference: Pinal Dave (http://blog.SQLAuthority.com)