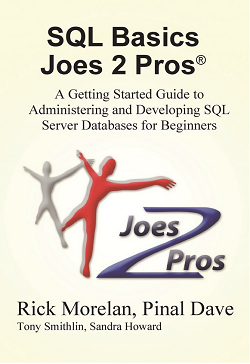 This is the 1st post out of my 10 post series of my videos on my 10th book – SQL Basics. Today will show the importance of data and information.
You can get that in Paperback (USA) and Kindle (Worldwide).
Databases have been around since cavemen were drawing stick figures of their family's on the rock walls. A database is a collection of related information. In the last 20 years what has improved greatly is we can get the information we need instantly from databases. For example if we ran a test promotion in Florida that we were thinking about running around the world we would want to know how well the promotion affected sales. In this case we want to compare the sales gains in Florida to all other areas. There may be millions of sales in Florida and billions of sales everywhere else. That is far too much data for a human ledger. We need a system that can both collect and pull out this information for us. SQL Server is a Database Management System (DBMS) that (if we know how to talk to it) will be our best business friend.
SQL in Sixty Seconds Video
We have attempted to explain the same subject in simple words over in following video.
Action Item
Get the book for yourself and your friend. This is just a reference everyone must have it.
Read the related blog post: SQL Basics: Data and Information in Businesses – Day 1 of 10
Available in Paperback (USA), Kindle (Worldwide) 
Reference: Pinal Dave (https://blog.sqlauthority.com)