I recently came back from my 9-day trip in Nepal and I must say that this is one of the best trips I had in my lifetime. Allen Bailochan Tuladhar is a wonderful person and an extreme enthusiast for Microsoft Technology. Allen is the Chief Executive Officer of Unlimited Technologies Pvt Ltd., Country Manager of Microsoft MDP Nepal, the Member Secretary of Nepali Language in Information Technology, and member of the Steering Committee of the Government of Nepal. It an was an unlimited experience for sure.
He is the person who keeps the Nepal's Tech Community constantly motivating and taking it to the next level. I have met Allen for many times before, but this was the first time I was with him in Kathmandu, Nepal. I was very impressed with the amount of the work he does in the community. During my 9 days of stay, every single day was a new lesson for me. I was amazed and overwhelmed by the many things he does every single day. Not only he does his work closely with the Government of Nepal ministry, but he is also the most known person in the Student Community. His expertise in the technical subject matter is not limited to one technology; rather, I have seen him actively engaging himself in  discussions of various tech topics.
Allen is currently active in working out to localize Windows and Office and incorporate it using the Nepali language. I was able to witness and experience how the localization works, as well as the procedure on how to do such. If you know the whole localization process, you must have realized how big and daunting of a process it is. I was glad that I became a part of it.
Another great opportunity I had when I was at Allen's office is that I have learned how the radio technology talk show works. The Nepali Radio station has the weekly program in their local language, in which MS technology is discussed and industry leaders are invited to talk about their experience with the technology. I found the program so interesting because it has so much variety in terms of technology subjects. Well, my understanding of Nepali language is limited but I did understand quite a bit.
I got the chance to meet lots of Database Professionals as well. People in Nepal are very polite, even though they are very strong in their technology fundamentals. I had in-depth discussion regarding High Availability scenarios, as well Query Tuning. Database professionals from the leading financial sectors of Nepal wanted me to visit their Data Center and help them out with a few advances. In no time, Allen organized a visit for me. He sent me a Nepali-speaking expert from his own organization to accompany me in overcoming any difficulties while I was on my way helping this financial district.
When I was going to Nepal, I was really not sure if I would be able to stay busy for 9 days straight in Community-related activity. However, on the 9th day I realize that I can still stay here for more than 9days because in every single day, I feel enthusiastic enough to do something new.
Even though I was working  very hard every day, I hardly had the chance to work with and talk to him one-on-one for the first few days. One of the evenings, Allen invited me to his home and we discussed about his future ideas. I was really surprised to see how much a man can do for his technical community and for his country. When I asked the Allen's wife and daughter if they ever think it's getting too much with regards to Allen putting tough efforts to the community, their answer was something I did not expect. I found out that Allen's wife manages all the back office and logistics of the community events and his daughter manages the websites. I felt that they do not have any complain,  and instead, their whole family is in this activity as deeply as it can get, which I thought is a very good thing.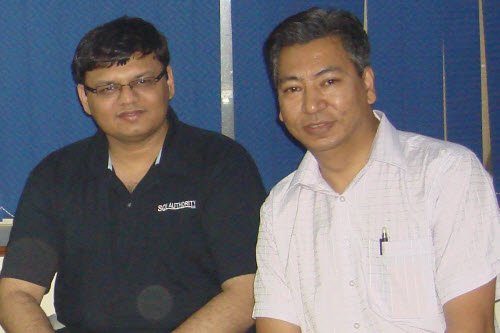 I want to end this post with an interesting story that happened during our lunch hour at one of the Nepali restaurants. While we were having our lunch and having some chitchat, Allen suddenly stood up and called several people walking along the pavement. He introduced them all to me as Microsoft Student Partners. He asked all of them to order their favorite dish and called the waiter to inform that he will pick up their tab. Figuring out the question written on my face, he just said one sentence: "They are all future technology professionals who are going to make all of us proud." I guess I have a lot of things to learn.
Hats off to Allen!
Reference: Pinal Dave (https://blog.sqlauthority.com)