I am very excited to announce the huge success of the Microsoft Community Tech Days in Ahmedabad, on 11 June 2011.  The turnout for this seminar was huge, and there was a great response from the audience.  In fact, the AMA where the conference was held can seat 275 people – but there were over 50 people standing, the event coordinators had to find 150 more chairs, and we even had to turn away 30 people at the door because there was just no more room.  This means that there were over 500 attendees!
The event started right on time, at 10 am, with my introduction and welcome to the audience.  My presentation on my favorite subject of "SQL Server Performance Troubleshooting Using Waits and Queues."  Because of the number of speakers, I had to cut my presentation short by 10 minutes, so I only had 50 minutes to explain how to use waits and queues to fine tune performance.  There was a good response to my talk from the audience.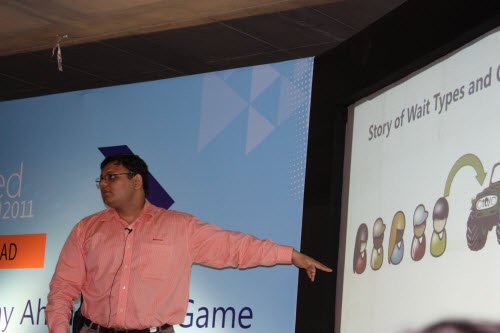 I feel the best presentation, though, was "HTML5 – Future of the Web" by Harish Vaidyanathan.  He explained how HTML5 is going to change the internet, and taught everyone a lot about how to best use Internet Explorer 9, and discussed CSS3, SVG and DOM specifications.  Many people in the audience came specifically for this session – many had to take a half day leave off work just to travel there.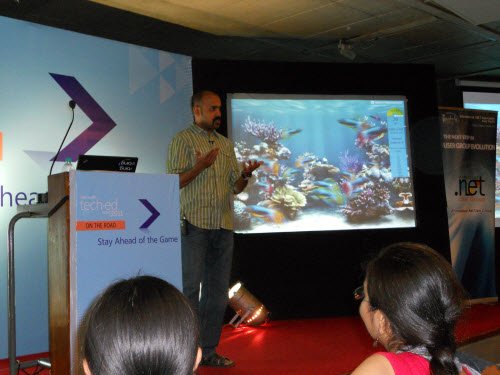 After this came "TSQL Worst Practices" by Jacob Sebastian.  He too had to cut his talk short by 10 minutes in order to accommodate everyone, but his discussion of what SQL queries to avoid was still excellent. He is magnificent presenter and Ahmedabad loves him.
The final presentation was "ASP.NET Tips and Tricks" by Tejas Shah.  This was a good overview of asp.net fundamentals, and how to use them to improve application performance.  However, the day was not over here!  We kept the audience entertained with prizes and giveaways.  Names were drawn for prizes and there was a quiz session with great gifts for the winners.
Overall, the day was a huge success.  There was a good mix of SQL and non-SQL subjects, and many audience members commented on how much they learned.  We had a much bigger turnout than expected – all the chairs were filled 45 minutes before we even started!  For our next conference, we need to find a space that will hold everyone, especially since we are hoping to have 600-800 people attending.  We definitely feel we can reach this goal.  We are already looking forward to the next Ahmedabad Microsoft Community TechDays.
Reference: Pinal Dave (https://blog.sqlauthority.com)