TechEd India 2012 was held in Bangalore last March 21 to 23, 2012. Just like every year, this event is bigger, grander and inspiring.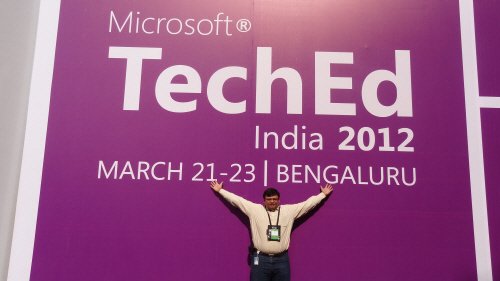 Family Event
Every single year, TechEd is a special affair for my entire family.  Four months before the start of TechEd, I usually start to build the mental image of the event. I start to think  about various things. For the most part, what excites me most is presenting a session and meeting friends. Seriously, I start thinking about presenting my session 4 months earlier than the event!  I work on my presentation day and night. I want to make sure that what I present is accurate and that I have experienced it firsthand. My wife and my daughter also contribute to my efforts. For us, TechEd is a family event, and the two of them feel equally responsible as well. They give up their family time so I can bring out the best content for the Community.
Guinea Pigs (My Experiment Victims)
I do not rehearse my session, ever. However, I test my demo almost every single day till the last moment that I have to present it already. I sometimes go over the demo more than 2-3 times a day even though the event is more than a month away. I have two "guinea pigs": 1) Nupur Dave and 2) Vinod Kumar. When I am at home, I present my demos to my wife Nupur. At times I feel that people often backup their demo, but in my case, I have backup demo presenters. In the office during lunch time, I present the demos to Vinod. I am sure he can walk my demos easily with eyes closed.
My Sessions
I've been determined to present my sessions in a real and practical manner. I prefer to present the subject that I myself would be eager to attend to and sit through if I were an audience. Just keeping that principle in mind, I have created two sessions this year.
SQL Server Misconception and Resolution
We believe all kinds of stuff – that the earth is flat, or that the forbidden fruit is apple, or that the big bang theory explains the origin of the universe, and so many other things. Just like these, we have plenty of misconceptions in SQL Server as well.
I have had this dream of co-presenting a session with Vinod Kumar for the past 3 years. I have been asking him every year if we could present a session together, but we never got it to work out, until this year came. Fortunately, we got a chance to stand on the same stage and present a single subject.
 I believe that Vinod Kumar and I have an excellent synergy when we are working together. We know each other's strengths and weakness. We know when the other person will speak and when he will keep quiet. The reason behind this synergy is that we have worked on 2 Video Learning Courses (SQL Server Indexes and SQL Server Questions and Answers) and authored 1 book (SQL Server Questions and Answers) together.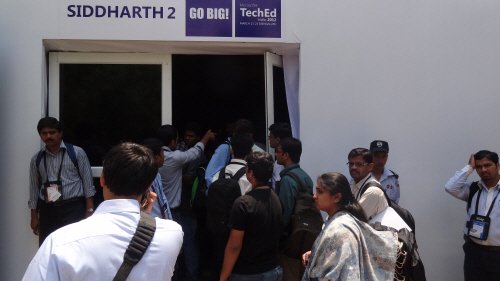 This session was inspired from the "Laurel and Hardy" show so we performed a role-playing of those famous characters. We had an excellent time at the stage and, for sure, the audience had a wonderful time, too. We had an extremely large audience for this session and had a great time interacting with them.
Speed Up! – Parallel Processes and Unparalleled Performance
I wanted to approach this session at level 400 and I was very determined to do so. The biggest challenge I had was that this was a total of 60 minutes of session and the audience profile was very generic. I had to present at level 100 as well at 400. I worked hard to tune up these demos. I wanted to make sure that my messages would land perfectly to the minds of the attendees, and when they walk out of the session, they could use the knowledge I shared on their servers. After the session, I felt an extreme satisfaction as I received lots of positive feedback at the event. At one point, so many people rushed towards me that I was a bit scared that the stage might break and someone would get injured. Fortunately, nothing like that happened and I was able to shake hands with everybody.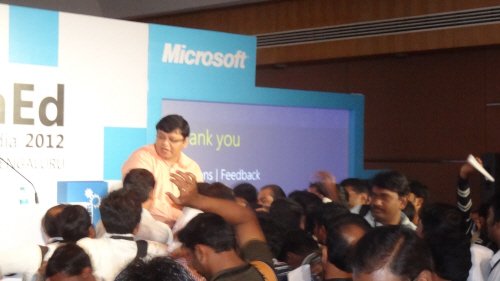 Networking
This is one of the primary reasons many of us visit the annual TechEd event. I had a fantastic time meeting SQL Server enthusiasts. Well, it was a terrific time meeting old friends, user group members, MVPs and SQL Enthusiasts. I have taken many photographs with lots of people, but I have received a very few back. If you are reading this blog and have a photo of us at the event, would you please send it to me so I could keep it in my memory lane?
I guess TechEd is a mix of family affair and culture for me!
Please tell me which photo you like the most!
Reference: Pinal Dave (https://blog.sqlauthority.com)