It has been a great pleasure to visit Infosys Mysore for an MSDN session. I had previously visited Infosys Bangalore for Technical session. Please read the details of earlier visit SQLAuthority News – Notes from TechDays 2009 at Infosys, Bangalore. This event was held on Dec 10, 2009.
I have been recently presenting the subject of Change Data Capture; it has been great fun as it is a very interesting subject that really captures your attention. It was a well-received session that lasted for nearly 1.5 hours instead of regular 30 min. The smart crowd at Infosys received the subject very well. They also interacted by asking all sorts of question on the subject. Notably, the attendees seemed to understand the subject and they also participated with me. This event was held on Dec 10th, 2009.
Session 1: The History of Log – Change Data Capture (CDC)
Abstract: Learn to capture the history of data using CDC. An age-old method of writing queries and triggers to capture change in database table is replaced with a considerably powerful asynchronous method of change data capture (CDC). All attendees will learn how to configure CDC in less than 60 seconds.
If you are interested to read more about CDC, please download CDC script from here.
The infrastructure at Infosys is very advanced. The hall, in which I presented the session, had a seating capacity of nearly 1100 people.
You can clearly see that it is very interesting to present a session in front of large screen projection. Whatever you see on the screen appears enlarged, but it is very clear to audience.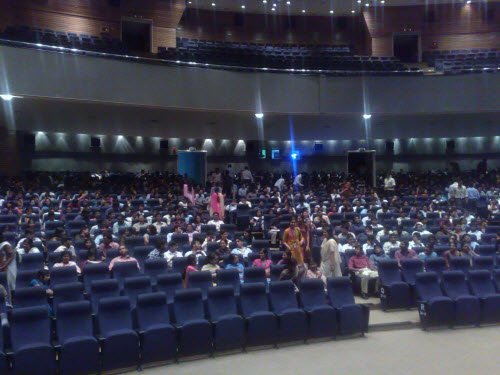 Session 2: PowerPivot Self-Service Business Intelligence in Excel 2010
Abstract: You most likely have already heard of PowerPivot, the ground-breaking new BI technology shipping in Microsoft SQL Server 2008 R2. In this session, we introduce PowerPivot for both analysts and IT in the context of Self Service BI. We look at the client capabilities of PowerPivot for Microsoft Office Excel power users, the collaboration features for teams, and the important IT tools for compliance and effective administration.
It was my pleasure to meet one of the Microsoft evangelist and very known SQL Expert L Srividya. She had the skills to keep the audience entertained as well as educated. She one of those professionals who know SQL inside out. She almost knew all the answers of the questions asked. She even had a good insight of subject and also helped me to solve few problems during the session. She also held a demo extravaganza that entertained people so much that they would not leave the session hall, even after the end of the session. In short, she was successful in capturing the attention of the crowd here.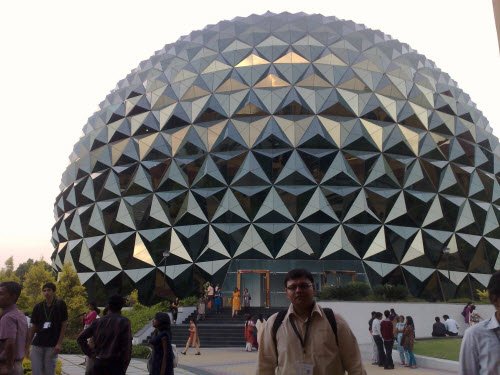 The session hall which had very large screen and 1100 attendees capacity is known as multiplex and above photo is just outside the session hall.
During my sessions at Infosys, I had great time to go around and see campus. Infosys Mysore campus is really huge and very artistically decorated. I was amazed with its infrastructure and size. Infosys' Chairman and Chief Mentor M.R. Narayana Murthy has described the training centre, which is located 140 km off from India's Silicon Valley, Bangalore, as the biggest corporate training facility in the world. "We are setting up the biggest corporate training facility in the world with 2,000 rooms that can house 4,000 people on a twin sharing basis."
It was my great pleasure and I would like to express my special thanks to Microsoft for arranging this huge successful event at Infosys, Mysore.
Reference: Pinal Dave (https://blog.sqlauthority.com)