I recently had opportunity to attend TechDays 2009 Infosys. The dates of the event was Nov 16-17, 2009. This event was the largest technology conference by Microsoft in Infosys. Microsoft Tech Days focused on positioning Microsoft as the company to bet on for future technology investments by businesses and consumers alike. The event was a showcase of Microsoft's products and solutions to technologists, decision-makers, technology influencers, and analysts.
The in-campus event in Infosys was attended by 2500 tech professionals and decision makers. The event was also broadcast live to all non-Bangalore Infosys locations by using Infosys' internal infrastructure. 2.5K Attendees I 1.2K In Person Attendees I 1K+ Online Views. Microsoft Tech Days provided the ideal platform to have targeted engagements with multiple audiences under one roof. This event also stood out for its offering of engagement opportunities for technical audience – activities ranging from sessions, connect with experts, to Demo extravaganza. The in-campus event brought the rich experience of learning the latest Microsoft technologies to tech professionals and decision-makers, at their own campus. With six tracks and 32 sessions, this event covered topics ranging from Windows 7, Cloud and VSTS 2010 to various other latest Microsoft Technologies.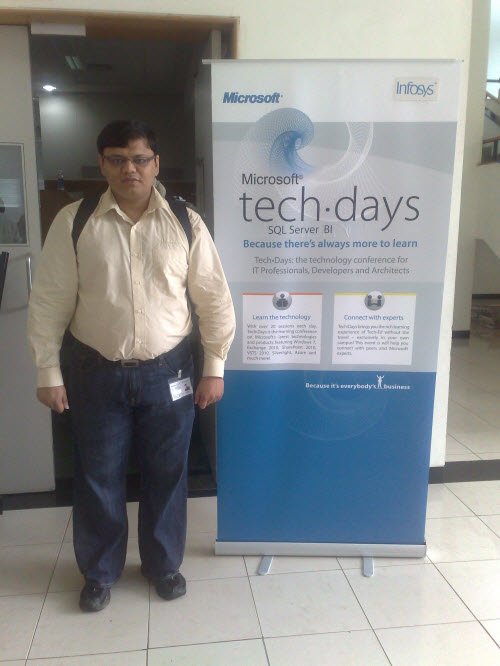 I was fortunate to present two different SQL Server sessions at the location. I really enjoyed presenting at Infosys as I had a great audience that supported by wonderful participation. I had received nearly 30 questions during session, and yeah, it was fun to answer them all. Couple of questions on the subject of Business Intelligence were so advanced that I had to dig really deep in my knowledge to answer them. Vinod Kumar, the top SQL Evangelist from Microsoft, was also present in the session on Business Intelligence, and he had also answered few insider-related questions.
Both the sessions were very well received. Huge cheers to Microsoft for arranging one of the largest events at Infosys! I was also very much impressed with the campus of Infosys. I have never seen such a large and well organized campus for any software company before Infosys.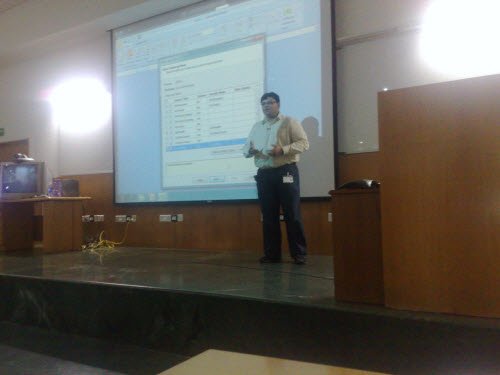 Session 1: The History of Log – Change Data Capture (CDC)
Abstract: Learn to capture the history of data using CDC. An age-old method of writing queries and triggers to capture change in database table is replaced with a considerably powerful asynchronous method of change data capture (CDC). All attendees will learn how to configure CDC in less than 60 seconds.
Session 2: PowerPivot Self-Service Business Intelligence in Excel 2010
Abstract: You most likely have already heard of PowerPivot, the ground-breaking new BI technology shipping in Microsoft SQL Server 2008 R2. In this session, we introduce PowerPivot for both analysts and IT in the context of Self Service BI. We look at the client capabilities of PowerPivot for Microsoft Office Excel power users, the collaboration features for teams, and the important IT tools for compliance and effective administration.
Session of Vinod Kumar
The main highlight of TechDays was the session by Vinod Kumar. This session had the largest number of attendees in the entire event. He talked about the subject "Locking and Blocking with SQL Server", which is not a very new subject, but Vinod talked on the same subject with a fresh prospective and with lots of new examples. In fact, the attendees were fully absorbed the session and they continued their involvement even after the session was over. Vinod was awesome as usual. I really learned a lot from Vinod during the quality time spent at the event.
I also had pleasure to meet Phaneendra Babu Subnivis, a very keen reader of this blog and SQL Expert from Infosys.
A great piece of advice that I had received from Vinod during the event:
"Build a credibility in such a way that attendees has expectation from the speaker for something new and interesting."
I end my notes on this event with this wonderful piece of advice. This was indeed one of the most interesting community events that I had been involved with in recent times.
Reference: Pinal Dave (https://blog.sqlauthority.com)