First day of TechEd India 2009 is over and when I recall the day I can say that it was truly a blast! This immensely huge and grand event was conducted successfully. I am having a tough time trying to recapitulate the first day as there were several different activities worth covering. Let me start with the three most important events of day.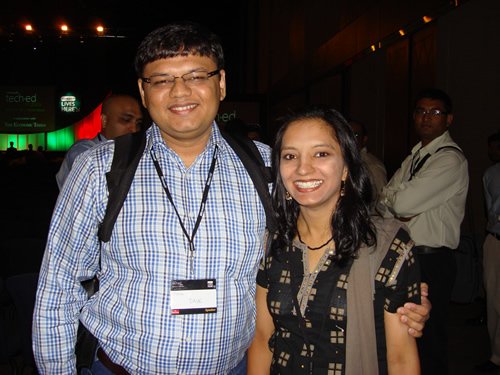 Steve Ballmer – Microsoft CEO – was the Keynote speaker at TechEd India. He is really an enthusiastic person. As soon as he showed up on stage, the entire auditorium was charged with energy. People were extremely keen to see him and listen to him. He gave a very impressive overview of Microsoft Strategies and its future planning. Listening to him about recession was quite interesting. Steve is a man with wisdom and according to him this is in fact a good time and things will soon improve. With a tinge of humor he said "Recession is life time opportunity and do not miss to learn new things and grow out as stronger person". Now, you tell me where else you will get to hear optimistic statement like this.
Today, I had a technical session on "SQL Server Management Studio 2008 New Features". I really enjoyed the presence of participants at my session. The session hall was occupied with SQL enthusiasts who were excited to learn something new. I commenced my session by saying that the session was useful for people who are ever going to touch Management Studio. My session had nearly 9 demos and around 40 slides. Interestingly enough, I proficiently covered everything in less than 40 min, and we had ample time for discussing, addressing future issues with SQL Server, and interacting with SQL Server Product Team of Hyderabad. It may come as a surprise to few but yes, there are an interesting lot of people in SQL Server Product Team in Hyderabad.
Vigorous participation of people made my session interactive throughout. There was a two way communication. Not surprisingly, I received lots of feedback while the session was progressing. At one point, the entire hall was crammed with people and we ran out of chairs. I must thank the team leads Abhishek Kant and Abhishek Baxi for their speedy arrangement of additional chairs to accommodate all the attendees. SQL Server Cheat Sheets, which were prepared along with me by Digi-corp, were available for free pickup. We did not expect that SQL Server Cheat Sheet will become so popular; we ran out of them right during the session. I was able to arrange few of them right away, thanks to the agility of my cooperative wife Nupur, who is also attending TechEd event along with me.
Today, was one of the most important days of my life as I got the opportunity to meet a person I always wanted to meet. Vinod Kumar is a very well-known person in SQL community, and it feels weird to give introduction about him who is a celebrity in his own right. But for those who do not know him, let me introduce him to you. Vinod Kumar is a technical evangelist at Microsoft who is very passionate about community. He is one of the lead organizers of the highly esteemed TechEd India event. I was fortunate to spend time with him today and exchange a few words with him. Vinod is a very down to earth person and refuses to be addressed as "Sir." He likes to be called just "Vinod." He gave me many good suggestions, tips and advice. I would like to mention one statement he made –"Just be what you are!"
I attended two TV interviews and one community jam event as well. When I started giving autographs I did not realize when the number crossed 125. It was surprising, exciting and real fun! I will give details about it tomorrow.
Even though today was an action-packed day, I did take about sufficient time to meet few of my MVP fellows. Whenever MVPs meet, we have a great time! It was a pleasure to meet Jacob Sebastian (Beyond Relational), Vikram Pendse (The Silverlight Guru), Suprotim Agrawal (SQL Server Curry), Mahesh Mittkari (Pune UG), Satya (SQL Server Q&A – he came from Scotland to see Steve B and meet us), Amit Bansal (Peopleware India), Mahesh Dhola, Sanjay Shetty (INETA Lead), Ashwin Kini (Culminis Lead), Nauzad Kapadia (Quartz), Niraj (Niraj Rules), Arun (XML Guru), Gitesh Bajaj (PPT God), Hardik Shah (MS), K-Mug Leaders and many more.
Please pardon me if I missed any name. I will update it in my tomorrow's post with further information about what we talked about and how much we enjoyed together.
Back at hotel, I had lip smacking Thai Dinner with my wife. We both are vegetarians so the choice was limited, but nonetheless the food was great.
I'm looking forward to another action-packed day tomorrow. You can follow updates on Twitter here.
Reference : Pinal Dave (https://blog.sqlauthority.com)