On September 20, 2008 was one of the best day so far for Ahmedabad SQL Server User Group Meeting. We had two very interesting sessions by two SQL Server MVPs. SQL Server MVP Jacob Sebastian had began the meeting with very interesting introduction note.
Along with many news Usergroup President Jacob Sebastian announced that SQL Server 2008 RTM (Release to Manufactor) is out. Jacob explained that difference between CTP ( Community Technology Preview) and RTM. RTM means MS SQL Server developer team has signed off on final version of product. Currently, SQL Server 2008 is available to MSDN Subscribers, TechNet Subscribers, MVPs and few selected beta testers.
I wanted to display one interesting photo which I have found in email forward but due to confusion it was not available with me. I promised that I will have it posted on my blog. Here is the photograph of the SQL Server 2008 RTM cake.
Jacob also announced that this blog author Pinal Dave (myself) will take over the charge of Vice President of Ahmedabad SQL Server User Group. I was very much involved with Las Vegas SQL Server User Group before I came back to India leading large outsourcing project.
I had presented session on CTE (Common Table Expressions). It was very interesting session and I enjoyed discussion. A Common Table Expression (CTE) is an expression that can be thought of as a temporary result set which is defined within the execution of a single SQL statement. A CTE is similar to a derived table in that it is not stored as an object and lasts only for the duration of the query.
Questions and Answers session was very interesting. We went over PowerPoint presentation and SQL Server Scripts. They are available to download here.
User Group President presented excellent session right after my session of CTE. He first explained real life example of recursive CTE. The example was finding dependancy chain of a database object. I suggest all my readers to go over the example if you have not attended the user group meeting. Jacob went over wonderful example explaining how recursive CTE works from inside SQL Server. This was one of the best explanation I personally ever heard. That part of session was exclusive for user group attendees. If you are interested about it, please contact other user group attendees to learn about it.
Here are the photographs of this event. All user group members enjoyed Ice Cream at the end of session.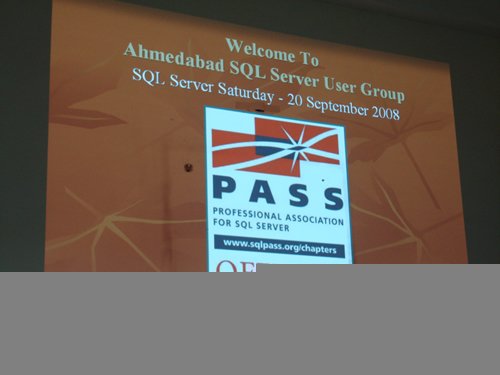 Ahmedabad SQL Server User Group – Pass Chapter
Jacob Sebastian at Introduction Session
Pinal Dave presenting session on CTE and Recursive CTE
User Group Members
Group photo of User Group Members
This meeting is also reviewed by Jacob Sebastian on his blog.There are additional photos and information available here. I would like to thank all of SQL Server User Group members who were present at meeting and those who missed the meeting please attend it next time.
Reference : Pinal Dave (https://blog.sqlauthority.com)