Ahmedabad SQL Server User Group is just 2 months old chapter but it is getting extremely popular among enthusiastic IT professionals. I have joined this group and suggest all the developers of Ahmedabad and surrounding areas to join this group. It does not matter which application you are using but SQL Server is same everywhere.
Ahmedabad SQL Server User Group is very fortunate to have Jacob Sebastian (SQL Server MVP) as President of the Usergroup. Jacob is co-founder and CTO of Excellence Infonet, Ahmedabad. You can read his articles at http://jacobsebastian.blogspot.com and www.sqlkatmai.com.
In recent meeting I had presented learning session about SQL Server Best Practices. I was very pleased as it was two way interaction. Many members of the User Group really took interest in the subject I was presenting and wonderful discussion about SQL Server technology had taken place. I would like to thank EVERYBODY who were present there. It was amazing that so many developer are eager to learn new things. Special thanks to Jacob for participating in Questions & Answers session along with me.
If you are interested in what I covered in my session of this user group meeting you can download my presentation SQL Server Best Practices in PDF here. If you want PPT of this please send me email and I will promptly reply you as well.
The official web site of the UG is . To join the group, please visit . Hope to see many of you in the next UG meeting.
Let us see some of the photographs of this event.
Jacob addressing crowd
—
Pinal addressing crowd
—
Jacob and Pinal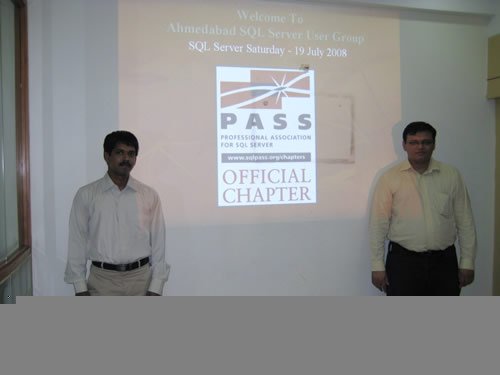 —
Few of the User Group Members (I wish we had group photo of everyone who attended – may be next time – we took this photo after most of the members left)
Reference : Pinal Dave (https://blog.sqlauthority.com)