In the month of January, I offered exclusive training to my newsletter subscribers. The training was extremely unique and was available for a limited time. Quite a lot of newsletter subscribers took advantage of this limited time offer of "SQL Server Performance Tuning Practical Workshop". If you have yet not signed up with a newsletter which has many such exclusive offer, you can sign up here: https://go.sqlauthority.com.
SQL Server Performance Tuning Practical Workshop
When I decided to offer training, I initially thought I would do every week two trainings. That means I was planning to do a total of 8 training in one month. However, as of today, I have delivered a total of 36 training sessions in January and when I write this there are 10 confirmed training in February.  I am indeed overwhelmed with the love and support of all of you. Hence, I decided to write the entire story over here in this blog post.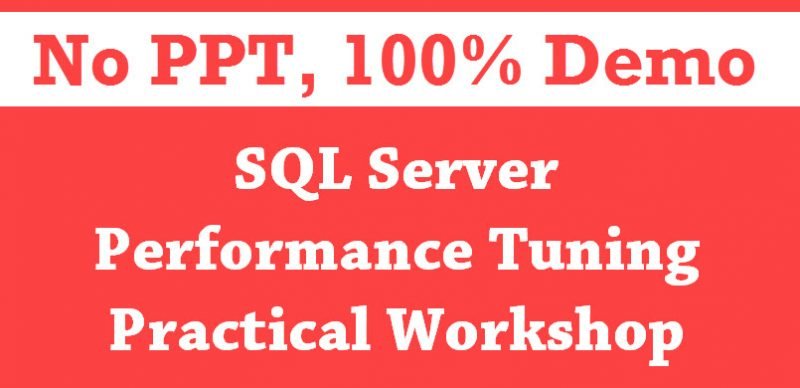 What Attendees are Saying-
Here is what some of the attendees say about this training-
"This training is not for the fainthearted, it is very fast paced. You should only sign up for this training, if you are willing to challenge your old thought process for performance tuning." ~ Mattew G.
"We will never look at the indexes the same way after this training". ~ Leah E.
"This is single no-nonsense training, super energy and amazing storyline." ~ Kristofer M D
"We built 10 point action plan from this training and we have just completed 6th action item and our performance is roof top." ~ Karim A.
"No BS, Pure Performance. Extremely Unique Experience!" ~ Murudeshwara NSV
The First Week
The first week when I offered this workshop, it was a bit slow week as not many had bought the idea that one can learn Performance Tuning in just 3 to 4 hours which can help you fix over 80% of performance issues. Many of us still believe it is a good idea to pay more and take longer courses which can go up to 5-7 days (8 hours every day).
Honestly, the world has changed, we really do not have time to take mini – vacations from our day job and spend over 40-60 hours of learning theories, which we can hardly put into action in the real world.
First Trainings
However, quite a few organizations who have worked with me before jumped immediately to reserve training hours. If you have worked with me before you know that I talk only practical solutions and never give long theoretical answers (unless asked to discuss in detail) which eventually confuses many.
After the first week, the word of mouth spread for this training and I saw ever increasing demand for this training.
Word of Mouth
After the word of mouth spread for the practicality of this training, I received an unprecedented amount of request for this training in the second week.
Today, when I am writing this email. I have already done 38 Practical Workshop for Performance Tuning for a total of 26 different organizations.
Silly Typo and Confusing Words
This training was exclusively available to subscribers of this newsletter and was not available outside. I initially wanted to only do training in the month of January, however, when I sent email initially, I had made a silly typo in it.
What I wanted to say – "The training is only available during the month of January."
What I had said – "The training is only available to register during the month of January."
Well, if you read it carefully, you will understand that both the statement has a different meaning. When I started to get requests from users to register for the training in February and March, I realized that what I wanted to say was the training has to be completed in the month of January but from what I had said it meant, someone can register in for future date training in January.
I immediately stopped sending emails and corrected my mistakes in all the unsent emails. Well, it was too late for many emails.
Finally – I Kept My Words
Well, the training is very popular and one of the organizers liked it so much that they wanted me to deliver it to their global audience multiple times during different Timezone. The training is very sharp and effective, users can immediately start taking advantage of many of the different tricks immediately.
I think I finally gave into the request and opened up the training for anyone who registers in the month of January.
My Confession and FAQ
So essentially, if you initiated request in January, I am open to extend the actual delivery in February. However, no later than February 28th.
Here are top five frequently asked training about the training:
Q1) How is this training delivered and how long it is?
A1) The training is delivered via gotomeeting and the typical duration is between 3 to 4 hours.
Q2) How do I register for this training?
A2) There is no online link for the training. You just have to reply to this email with answer to following four questions.
1) Name of your organizations
2) Available time slot of 4 hours (date and time with Timezone)
3) Number of attendees
4) Number of SQL Server Instances in your organizations
In response to the above information, I will send you my fees and availability. Once we agree on the same, I will send GoToMeeting Link for meeting and PayPal Link for payment
Q3) What is covered in the training?
A3) In this session we learn about
Index Strategies
Server Configuration for Performance
Instance Configuration for Performance
Wait Stats Analysis
DBCC Best Practices
After the training, once you implement all the learning points in the action, I am EXTREMELY CONFIDENT that you will get amazing performance from your existing system. It will be like adding six months of additional lifetime to existing infrastructure.
Q4) Is it 1:1 training or a public class training?
A4) This is 1:1 personalized training to you or your team. It is not a public class or public webinar where there will be many different individuals. My experience says, public classes are way less efficient than customized training build for your server environment.
Q5) Do you really give all the scripts and associated material covered during the session?
A5) Absolutely YES. Before we are done with the call, I send you zip file which contains all the scripts which we have learned in the session along with reference material.
Positive Aftermath
Since I have started Practical Workshop for Performance Tuning, I am getting lesser request for my most popular service of Index Tuning and Strategy Guidance (99 minutes), I believe this is because after attending this training users are doing it themselves. Though, it has reduced my business by a bit, I am very happy that my training attendees are helping their servers themselves. There is nothing more beautiful than knowing tricks to fix your own server.
Free Webinar
Now if you have read this blog post so far, you indeed deserve a gift. Click here to watch my free webinar on SQL Server Performance Tuning.
This free webinar will give you glimpse how I explain a very high impact performance tuning tricks with simple action words.
If you have missed the training, well too bad, but do not miss watching this fast paced 50 minute webinar.
Do You Want to Learn?
Well, the training was available for a limited time and I no longer do the training. However, if you are really really keen on learning SQL Server Performance Tuning, do reach out to me at pinal@sqlauthority.com from your work email address with following information and I will immediately revert it back with further instructions.
1) Name of your organizations
2) Available time slot of 4 hours (date and time with Timezone)
3) Number of attendees
4) Number of SQL Server Instances in your organizations
Please note, you must only contact if you are serious about learning SQL Server Performance Tuning Practical Workshop.
Reference: Pinal Dave (https://blog.sqlauthority.com)