I have a habit of generally reading the "What's New" section whenever a new version is around in the block. This is a great way to actually check, learn everything that is getting released in a nutshell. These often don't just mean we can master them in that single page, but it gives us enough information to start our journey for exploration. Let us learn about Setup Limited to Reporting Services for SharePoint warning.
Also, it is important that you keep learning and testing various scenarios because I get pushed into customer environments that challenge me. During my lab testing, I was trying to install SQL Server 2016. As soon as I clicked on the setup, I was welcomed with below warning. This was fundamentally for one of my client assignments wherein I was helping them as part of migration to the latest version of SQL Server.
"Setup limited to Reporting Services for SharePoint". As the message says further – "This server is running Windows Server 2008 R2"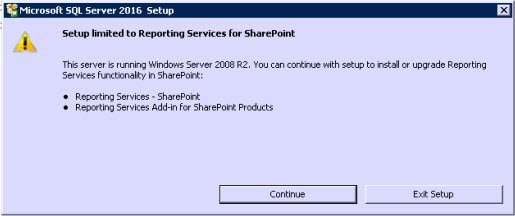 I went back and looked into the documentation and found issue listed here.
Issue:
There is a table for operating system support which doesn't list Windows Server 2008 R2. The minimum operating system is Windows Server 2012. This was not new because these compatibility lists are always published by Microsoft with every single release. Understanding the supportability matrix and making sure these are adhered to is critical in production environments. If we override the warning, be aware that the support might not apply in case we get into issues later.
I am curious to know if you have installed such environments at your work? What are those scenarios when you did this as a DBA? Did you appraise your decision makers of such warnings? Will be great to understand your experience – do let us know via comments please.
Reference: Pinal Dave (https://blog.sqlauthority.com)