Last contest, which we had ran was in May and it had received amazing responses. I once again reached out to kind team of Embarcadero and they agreed to support the next contest. The contest has two steps and they are very simple. It took me a while to build contest, but it is a really fun one. I am very confident that once you try out the contest, you will love it.
Two Giveaways:
(USA) USD 50 Amazon Gift Card to 1 Individual
(India) INR 2500 Amazon.in Gift Card to 1 Individual
(Rest of the world) USD 50 Amazon Gift Card to 1 Individual
Contest 1: T-SQL
Run following T-SQL script and observe the answer:
SELECT
CAST('2015-01-01 14:48:34.69' AS DATETIME) FirstVal,
CAST('2015-01-01 14:48:34:69' AS DATETIME) SecondVal
When we look at the answer, there is a difference between the milliseconds part in the resutlset, whereas you can notice that in the SELECT statement I have specified different milliseconds part. The question is why there is a difference in the millisecond part even though I have same value selected?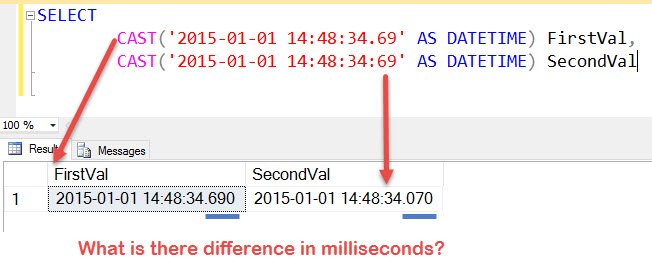 Contest 2: Download and Install DBArtisan
This is the easy part of the contest. You just have to download and install DBArtisan. You can download DBArtisan from here.
How to Participate?
Leave an answer for contest 1 in the comment section of the blog.
Leave a comment with the same email address which you have used to download DBArtisan.
The contest is open till December 1st, 2015 Midnight PST.
The winner will be announced on December 10th, 2015.
There will be three winners 1) USA 2) India 3) Rest of the World
Please do not forget to indicate which country do you belong to qualify for the contest.
All the correct answer to the contest will be hidden till the winner is announced.
Reference: Pinal Dave (https://blog.sqlauthority.com)