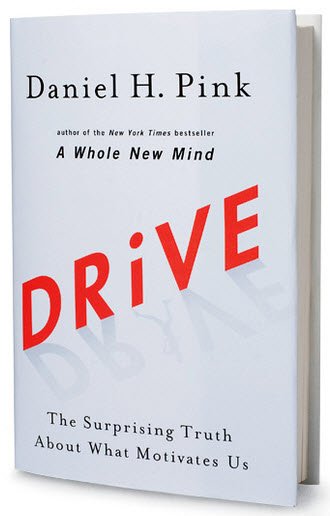 I have been an avid reader of books. I read pretty much one or two books every week. I believe reading helps me a lot in my day job as well as well writing blog post. I am an evangelist and my primary responsibility is to spread the love for the technology. When I read more, I learn more and that effectively leads me to communicate better with my audience. Here is one of the recent book which I read and I loved it. This book is about what motivates us and what is the best job for us. I have read this book a second time and I think finally I have digested the meaning of this book. I love every bit of it and if you do not have it, you should get it.
I am going to give 10 Drive physical books to 10 people who register for my newsletter over here.
If you want to own the book, you can get it from Amazon |Flipkart.
---
Here are essential few quotes from the book.
The joy of the task was its own reward.
When money is used as an external reward for some activity, the subjects lose intrinsic interest for the activity.
Rewards can deliver a short-term boost – just as a jolt of caffeine can keep you cranking for a few more hours. But the effects wears off – and, worse, can reduce a person's longer term motivation to continue the project.
Enjoyment-based intrinsic motivation, namely how creative a person feels when working on the project, is the strongest and most pervasive driver.
Intrinsic motivation is of great importance for all economic activities. It is inconceivable that people are motivated solely or even mainly by external incentives.
Intrinsic motivation is conductive to creativity; controlling extrinsic motivation is detrimental to creativity.
It is those who are least motivated to pursue extrinsic rewards who eventually receive them.
Greatness and nearsightedness are incompatible. Meaningful achievement depends on lifting one's sights and pushing toward the horizon.
Any extrinsic reward should be unexpected and offered only after the task is complete.
Type Intrisic behavior emerges when people have autonomy over the four T's: their task, their time, their technique, and their team.
If you want to work with more type Intresic's the strategy is to become one yourself. Automony, it turns out, can be contagious.
There is complexity, autonomy, and a relationship between effort and reward in doing creative work, and that's worth more to most of us than money.
Carrots & sticks are so last century. Drive says for 21st century work, we need to upgrade to autonomy, mastery & purpose.
This new approach has three essential elements: (1) Autonomy—the desire to direct our own lives; (2) Mastery—the urge to get better and better at something that matters; and (3) Purpose—the yearning to do what we do in the service of something larger than ourselves.
Reference: Pinal Dave (https://blog.sqlauthority.com)