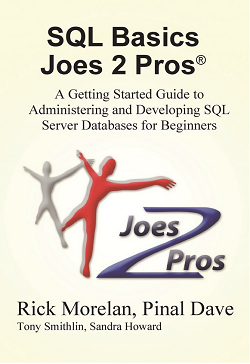 I authored 10 books so far and my 10th book is released today. You can get that in Paperback (USA) and Kindle (Worldwide) .
Idea of the Book
I have been blogging for over 6 years now and have been receiving over 1000s email every day since last year. I have been keeping every day two hours to just answer emails. I have been building a small wiki for myself where I keep on writing down all the questions which are asked more than 10 times. In recent times that wiki has literally quite big. The interesting part was that I was getting almost same questions pretty much every day. I have shared this with my book co-author Rick Morelan (I have previously authored a total of 8 out of my 9 books with him). The matter of the fact was that he was going through the almost same situation. We both decided to combine our notes and build a comprehensive study material for everyone who wants to learn something new.
Years of Trial and Error
Rick and I have both combined experience of over 25 years in the database industry. We both have done multiple jobs and written over thousands of lines of code. We have both been educator and have trained hundreds of the developers in our career. We decided to go back to the time when we were beginners and we were facing many issues with learning. There were so many questions which we wanted to ask to our instructor but we were not able to ask due to many reasons. We always wished that someone teaches us the language not from their own angle but teach us the way a beginner would like to learn. There should be a fine balance between what's being presented and what we are learning. Gladly we both felt that we both have the same vision and decided to build a comprehensive but to the point learning experience. We combined our years of trial and error methodology and build this SQL Basics book.
Personal Experience
Does the following story sound familiar to you?
The first SQL book you bought left you confused and demoralized at Chapter 1. Enrolling in your first class totally overwhelmed you and left you nearly hopeless, with only a partial tuition refund. Progress was expensive and slow. Countless times you tempted to give up. While grinding away at your own work with SQL, those key "ah-ha" moments and insights eventually came. Well, this book has been written keeping in mind that those experiences are not repeated.
Labs Experience
The labs have been created and delivered over several years of teaching SQL. If a lab offered an exciting "ah-ha" experience with students leaning forward on every word and demo, it's a keeper. However; when a lab caused more of a trance or tilted squint, it was discarded or revised with a better approach. The labs in this book are the end result, and each one consistently elicits "ah-ha" moments.
Cheaper than Coffee
We want every single developer to have this book on their shelf, their drawer and in their digital learning devices. We want everyone to have this book in your phone so we decided to keep the book at the lowest possible price. After looking at lots of options we decided to go with the Kindle. The lowest price we can keep of any book on the Kindle (for our account) is USD 2.99 and we decided to keep the price to USD 2.99. That's it. It is cheaper than any coffee you would purchase at Starbucks or Barista's Coffee. If you do not have the kindle device you can download kindle for PC and read the book.
Final Words
This book is an essential tool. When used correctly, we can determine how far and fast we can go. It has been polished and tuned for your use and benefit. In fact, this is the book I really wish was in my possession years ago when I was learning about SQL. What took me years of struggle to learn can now be yours in only months in the form of efficient, enjoyable and rewarding study.
Action Item
Get the book for yourself and your friend. This is just a reference everyone must have it.
Available in Paperback (USA), Kindle (Worldwide) 
Reference: Pinal Dave (https://blog.sqlauthority.com)