This example is from the Beginning SSRS by Kathi Kellenberger. Let us learn about SSRS.
You may already have SSRS, or you may need to install it. Before doing any installation it makes sense to know where you are now. If you happened to install SQL Server with all features, you have the tools you need. There are two tools you need: SQL Server Data Tools and Reporting Services installed in Native Mode.
To find out if SQL Server Data Tools (SSDT) is installed, click the Start button, go to All Programs, and expand SQL Server 2012. Look for SQL Server Data Tools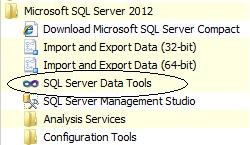 Now, let's check to see if SQL Server Reporting Services is installed. Click the StartAll > Programs > SQL Server 2012 > Configuration Tools > SQL > Server Configuration Manager
Once Configuration Manager is running, select SQL Server Services. Look for SQL Server Reporting Services in the list of services installed. If you have both SQL Server Reporting Services service and SQL Server Developer tools installed, you will not have to install them again.
You may have SQL Server installed, but are missing the Data Tools or the SSRS service or both. In tomorrow blog post we will go over how to install based on where you are now.
Tomorrow's Post
Tomorrow's blog post will show how to install and configure it.
If you want to learn SSRS in easy to simple words – I strongly recommend you to get Beginning SSRS book from Joes 2 Pros.
Reference: Pinal Dave (https://blog.sqlauthority.com)