User Group Meeting is the the event I always wait during whole month. User Group meetings are the place where we can meet various people from all around the city and expand our networking. Meeting new people and exchanging new tips and tricks is always interesting.
For year 2009 we had our first User Group Meeting held on January 17, 2009. You can read the announcement here SQLAuthority News – Ahmedabad User Group Meeting January 17 2009. As this was first UG Meet of the year it was full of action with 3 back to back Performance Tuning related sessions. If you have missed this month's session I am sure you have missed really lots of interesting learning material.
The agenda of the meeting was as following:
Understanding of Index Usage and Order By – Pinal Dave (MVP)
Query Optimization 3 – Jacob Sebastian (MVP)
MERGE statement SQL Server 2008 – Imran Bhadelia (MCTS)
We began our session with my technical presentation. I discussed about Understanding of Index Usage and Order By. You can download PPT and SQL Script from here. If you do not understand what PPT and SQL Script are trying to say, do send me email or leave a comment and I will send you reply with explaination.
My session was followed up by MVP and UG President Jacob Sebastian's technical session on his ongoing series of Query Optimization. We had third session in the same series by him.
Imran Bhadelia, MCTS, had presented his session on MERGE statement SQL Server 2008. He presented his first session of UG Meeting very confidently and encouraged other user to present session next time.
As usual, this session ended with Group Photo and Ice Cream.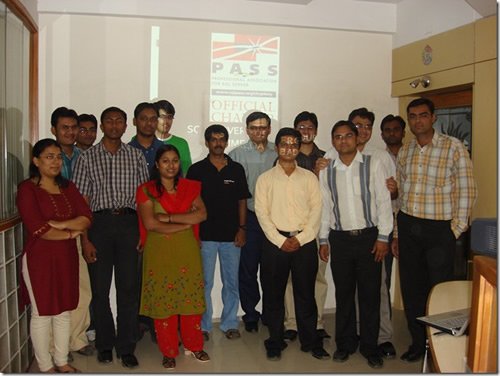 User Group Meetings are free and open for everybody. As I said there are two things you can always get from Ahmedabad SQL Server User Group Meeting – SQL Knowledge and Ice Cream!
Reference : Pinal Dave (https://blog.sqlauthority.com)