Two days ago, I was participating TechEd India 2011 and I had a great time presenting on various subjects. My computer fortunately behaved very well and I consider myself lucky for it. However, very next day, today, when I went to the office and turned on the machine, it did not start SQL Server. I was a bit confused and very quickly checked SQL Server Services. I noticed that services were OFF. I tried to turn on the services, but it keeps on giving me following error about request failed.
Error:
The request failed or the service did not respond in a timely fashion. Consult the event log or other applicable error logs for details.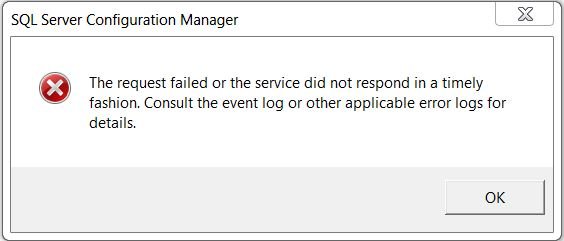 I was bit puzzled and looked into the Windows Application Error Log. It showed me following details:
When I looked at above error I right away realized what had happened.
Fix/Workaround/Resolution:
My organization has policy to change password at frequent interval. I had changed the password the day before and because of the same all the services were down. I quickly went to Property of the service and change the password to my updated password.
Once done when I attempted to start the service, it worked well and error wends away.
Let me know what you think about this error, are you still facing this error today? I believe the latest version of the SQL Server this error has been fixed.
Reference: Pinal Dave (https://blog.sqlauthority.com)