Just like every month Ahmedabad and Gandhinagar SQL Server User Group meeting was held on Dec 19, 2009, at Ahmedabad. The interactive meeting was huge success as we had wonderful audience. We had three speakers this time.
Tejas Shah talked about "Write CROSS TAB Query with PIVOT". Tejas is an excellent SQL Expert and a very talented individual. It gives me great pleasure when I see any UG member who updates himself to next level. Tejas has earlier presented many sessions at UG, but this was one of the best sessions. He started with a very basic example and then took it to very complex level in 30 min. He made sure that every attendee understood the subject properly.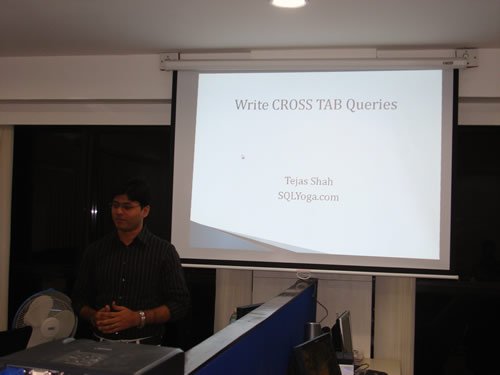 His session was followed by a quick note regarding the tips and tricks of SQL server by myself. I talked about few myths amongst developers regarding the working with SQL Server. I always enjoy talking about a subject where the results are unexpected even though the code looks very simple.
My session was followed up by a panel discussion between Pinal Dave (myself) and Jacob Sebastian (SQL Server MVP). We talked about the recent happenings in SQL Server world as we answered few questions from the attendees.
Overall, the event was very satisfying and it was great to meet the SQL Enthusiasts in the city.
Reference: Pinal Dave (https://blog.sqlauthority.com)