TechEd on Road Ahmedabad
In India, TechEd was held in Hyderabad in the month of May. You can read myTechEd summary article here. A similar event will be organized in 10 major cities in India.
Ahmedabad saw its first TechEd on Road and it was wholeheartedly welcomed by technology enthusiasts. The event was held at Rock regency, in the heart of Ahmedabad on June 20, 2009. We had attendees traveling over 500 miles to attend the event. We had attendees from Delhi, Mumbai, Jaipur, Kerala, Baroda, Himmatnagar, Rajkot, among other cities from India. It was a joyous and overwhelming experience for me to see them travel all the way from different parts of India to participate in TechEd event. Hats Off to you all!
TechEd event was attended by 200+ attendees. One of the reasons why this event had created lots of anticipation, which eventually lead to oversubscribed event, was two back to back SQL sessions by SQL Server MVPs. Pinal Dave and Jacob Sebastian; both are renowned for their technical sessions and their unique style of presentation.
Scroll down at the end of this article for photographs of the event.
Technical Sessions
The Official time to commence the event was at 1:45 PM but we had attendees pouring into the hall since 12:00 PM. We held a special session for attendees who came in early to keep them engaged. We provided them the opportunity to win loads of gifts while they waited for the official sessions to start. I must express special thanks to our event coordinator Dipen Shah, a bright young man who has just graduated as a Computer Engineering from a prestigious engineering collage for his excellent quiz master skills. It's great to see that next generation has so much passion for technology.
The most awaited event started sharp at 1:45 PM with Keynote where in the beginning Dipen explained what is TechEd and why this event is held. Pinal Dave known for his distinctive humorous style, started the keynote from the history of Microsoft Windows and the history of SQL Server. It was a 15-mins session where everybody thoroughly enjoyed and learned the root of technology and how it evolved with changing times. All the attendees enthusiastically participated during the keynote by Pinal Dave, and lots of gifts were given away. Jacob Sebastian picked up the keynote by Pinal Dave and continued the session. Pinal explained the history while Jacob explained the future. He explained how Microsoft is doing in terms of beyond relations and on other technological fronts. The audience really enjoyed learning about how technology progressed and how is it going and growing.
Jacob's remark " SQL Server being now 21 years old and can get married" created a riot of laughter!
The first session was by Pinal Dave on SQL Server Best Practices.
The second session was by Jacob Sebastian on Understanding Query Execution Flow and Optimization Tips.
If you want to know more about the technical details for these two sessions, then do not wait for my blog article. Attend our next user group meeting, which will be announced soon. The same session will be delivered by these two experts on request. Here, I can only say that these two sessions were very well appreciated by the attendees and everybody was extremely happy to be a part of this event.  The event lived up to everybody's expectations!
Event Sponsors
I must thank all my sponsors for their support – Microsoft, PASS, Solid QualityMentors, Digicorp, Quest and Excellence Infonet. Ahmedabad is fast catching up as a technology hub and growing very fast. We got our registration full in less than 36 hours. We opened up stand by tickets and which were full by 100%.
When I expressed my situation to Rushabh Mehta of Solid Quality India and told him that the event is oversubscribed by 200% on the day prior to the event, he right away told me that he does not want anybody from the community to turn away from door disappointed and miss the wonderful opportunity to learn from this event. Rushabh promised to cover all additional costs to accommodate the additional attendees. Not only this, he sponsored SQL Server Cheat Sheets for all the attendees. Rushabh, special thanks to you! Because of your support we were able to accommodate everybody who wanted to attend this event.
Arya Events did a wonderful job of making this large scale event a very smooth flowing event. There were no queues and no claustrophobic feelings. We hope to have them for all of our future events. All the graphic designs and logistics were provided by Digicorp – a vibrant young company from Ahmedabad. USB drives were provided by Excellence Infonet.
Miscellaneous Details
Pinal Dave got awarded for being the winner of T-SQL Challenge by Jacob Sebastian.
New book of Jacob Sebastian – "The Art of XSD" was available in print.
SQL Server Cheat Sheets were very much in demand.
We ordered 50 more chairs while the event was going on, as we ran out of them again (this is third time in row – when we needed more chairs)
.NET MVP Kaushal Parik attended and encouraged every participant.
Four directors of Digicorp – Abhishek, Nachiket, Kuntal and Sanket were present at the event to give their support.
Ritesh Shah of SQLHub performed really well and answered almost all the questions and won the highest number of gifts.
Mahesh Dhola announced his next event.
Kaushal Bhavsar Microsoft Student Partner was present throughout the event.
Giveaways
This event had so many giveaways that almost all the attendees got something. One of the attendees told me that he received 7 goodies today. Well, undoubtedly it was fun to share some of the nice things with all attendees.
18 T-shirts
3 Solid Quality Learning Polo Premium Shirts
9 USB drives
10 stress balls
3 technology books
33 high quality pens
300 SQL Server Cheat Sheets
200 Query Execution Flow Chart
200+ SQLAuthority.com and BeyondRelations.com Stickers
Photos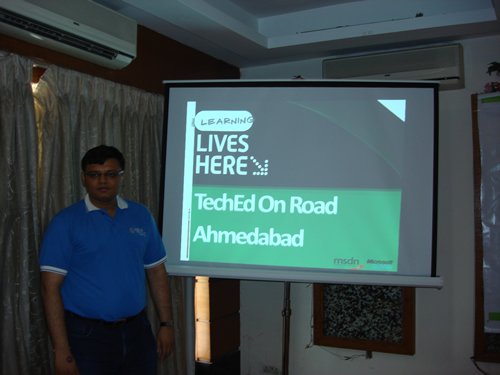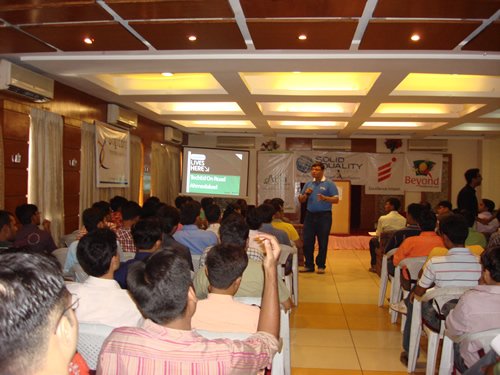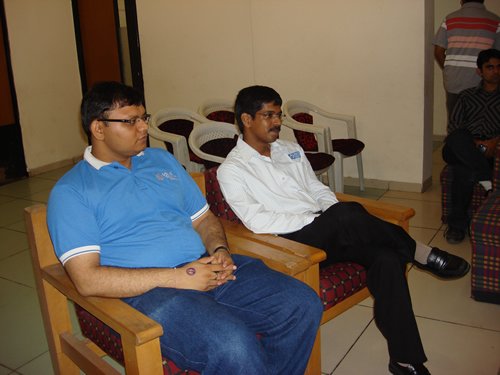 Please note: I have a few SQL Server stickers as well as SQL Server Cheat Sheets still left with me. If you want them then please send me email at pinal 'at' sqlauthority.com with your name, address and telephone number.
Reference : Pinal Dave (https://blog.sqlauthority.com)