Just a month back I had  previously changed my personal homepage and had requested for feedback from my readers here SQLAuthority News – Authors Website Redesigned – http://www.pinaldave.com – Feedback Requested. To my astonishment, I received a huge number of emails. But I received only one comment. This time, I would like to request my readers to leave your comments on my blog instead of emailing it to me. This will allow everyone to know about others feedbacks and the actions I take towards incorporating the feedbacks on my blog and a new banner.
Let us go over the very first and quite perceptible change.
Banner
The banner has been given a brand new look. Two major renovations have been done. First, I have replaced the previous dull image of mine with a new sharper and brighter image. Also, you all can see more of me now. I have placed a larger photo of mine; the earlier one was quite small. Second major changes that you all must have noticed is the color scheme. From the two-year old luscious green I've moved on to the cool blue!
In the past two years, I had changed my banner only once.  However, this time I decided to completely change my banner as well as color. It now appears spick and span. Yet another noteworthy change I have made is in the banner background. Beside my photo, there are two different images; there is a cloud like image on the left side of my image and a simple grid on the right side. Any guess what these two signify? Well, the reason behind this change is to suggest that SQL Server is moving toward cloud grid like computing world.
Color
I have been receiving countless requests from my long list of readers to change my color scheme. I was flooded with suggestions – Facebook Blue, Twitter Blue, Google Blue, MSN Blue, MVP Blue, LinkedIn Blue, to name a few- making the task of choosing extremely difficult. I finally selected a color which is closer to Facebook blue but a little darker. Of all the medications, choosing the color was the most crucial as there was no clear definition as to which shade of blue I should settle on.
Clean up HTML and Sidebar
I have made a number of other new changes such as removing unnecessary icons, images as well some of the flairs. I think now it is uncluttered and usable. Let me have your suggestions on enhancing the side bar.
Search
Search @ SQLAuthority.com now has the same look and feel as the main site. In addition, the search has also improved and now there will be no more delay in getting result. If you like the search do spread the words.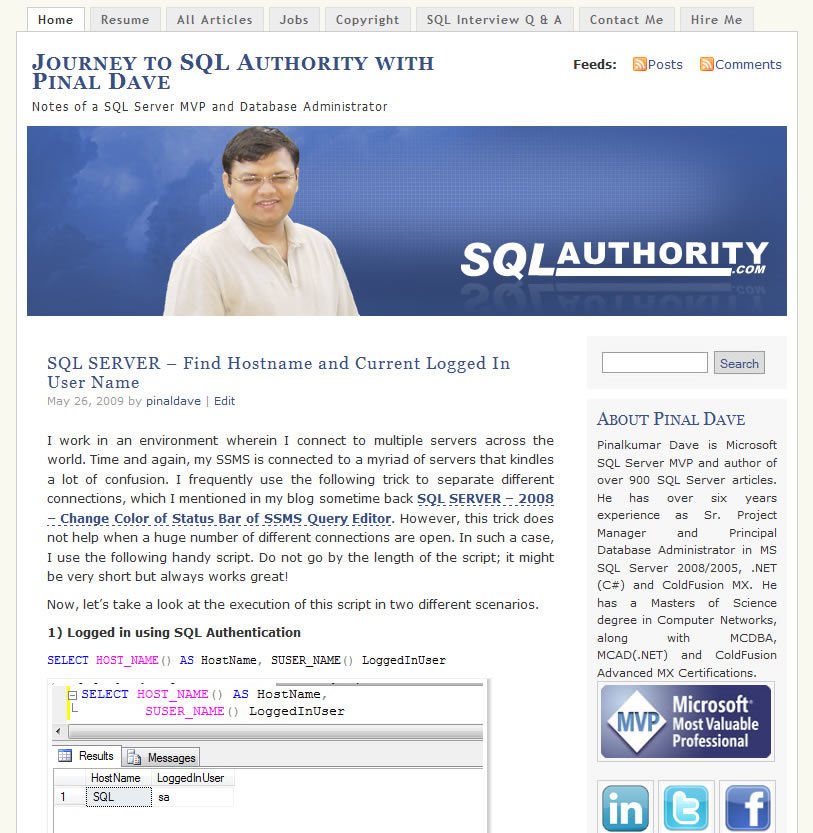 Again, please send me your comments about the new design.
Reference : Pinal Dave (https://blog.sqlauthority.com)