I'm pleased to inform you all that I've recently launched my personal website. It's been a long time since I've been writing on my blog https://blog.sqlauthority.com, but I've been keeping my personal notes at my homepage http://www.pinaldave.com.
I've completely rehauled the website to give it the much-needed makeover, right from redesigning the layout to writing fresh content. But, I would be extremely happy to have your feedback so that I can enhance my website further.
I've always been a people's person who believes in sharing his knowledge. Also, I want to see myself growing as an individual and as a professional. This is the reason why I pay a lot of attention to feedback. I hope my readers would provide me with some valuable feedback to make my website even better, which would in turn help me reach out to more people to accomplish my objective of serving my community.
I've enumerated below the significant improvements that have been made on my website.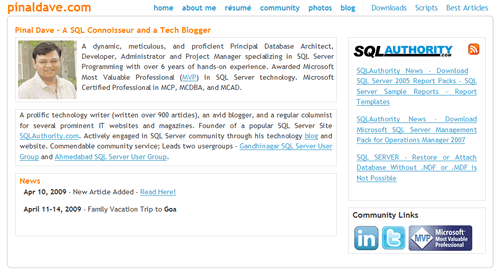 1) Clear Design
Previously, I used to receive a lot of feedback regarding the layout, which was a little confusing. Besides, the page was flooded with links that directed the visitors away from my website, which was certainly a serious concern. In contrast, the new layout contains few but relevant links that would actually benefit my website.. I have even changed the background from light brown to white for more clarity and better readability. Best of all, all the pages will now feature the latest three articles from SQLAuthority.com on left navigation panel.
2) Content
SQLAuthority.com is my key writing platform and I write on it almost every day. Till now, I have written over 900 articles.. Like any normal guy I too have my favorites and frequently used links. Some of my articles are script based and some are theory based. I have categorized them as per my preference and also based on the feedback I have received. The links are listed here.
Top Downloads
Best Articles

Best Articles
Favorite Articles – 1
Favorite Articles – 2

SQL Script Bank

Favorite Scripts
All Scripts – 1
All Scripts – 2
3) Photos
I have often received comments that my photos are pretty old and I must update it. Probably, my readers got tired looking at my same old pose! So, I have updated the photos page of my website with my latest photographs. In future I will make sure to keep the photos page updated. Visit my photos page.
4) Resume
In my resume, I have added several important information related to my career. I have simplified my resume, and now it only includes relevant details on my current objective. Currently, I am working as an independent consultant and specialist in SQL Server Query Optimization and Database Architecture. You can hire me or my entire crew. I have a team of over 65 talented and qualified developers who can complete your project irrespective of size, complexity or programming language.
5) Social Media
Social Media and Social Networking are hard to separate when we are a part of society. You can follow me on Twitter or join my professional network at LinkedIn.
I am very eager to know your opinion about my new website. Please do send me your feedback.
Reference : Pinal Dave (https://blog.sqlauthority.com)