A very common question I often receive –
Do we have SQL Server User Group in Bangalore?
Yes! SQL Bangalore – we had very first meeting on Nov 24, 2012 and very soon we are going to have another User Group meeting. The goal is to keep up a monthly rhythm of User Group meeting. If you are in Bangalore area please join the Facebook page and you will keep on getting regular update about SQL Server. In the very first meeting we have five 30 minute session and had a fantastic time.
We had the best of the best speakers presenting all the five sessions. The event was inaugurated by Vinod Kumar M by presenting on T-SQL Pitfalls. His excellent and eye-opening session was followed by Manas Dash. Manas presented fantastic funny session on Functions. He enlightened everybody with functions introduced in SQL Server 2012. We had a surprise guest from Mumbai – Raj Chaodhary. If you know him he has a very interesting way to present sessions and he presented on SQL Joins. His hard to follow act was followed by Sudeepta who presented on Contained Database. This subject is quite entertaining and interesting. My session was last in order and I was eagerly waiting to present.
I had decided to do something new this time so I had created around 52 slides and two demos. I was committed to go over all the 52 slides and both of the demos in 25 minutes of the time. I had interesting story as well. Though, I was a bit nervous I was able to go over a complete slide deck and demo in 25 minutes of the time I had.
We also were very fortunate to have international guest Lynn Langit from USA present at the event as well. She presented an overview of the Big Data in very little time – something not everyone can do it efficiently.
We are very thankful to our sponsor Pluralsight for awarding USD 300 worth Annual Subscription. It was the most awaited moment of the day.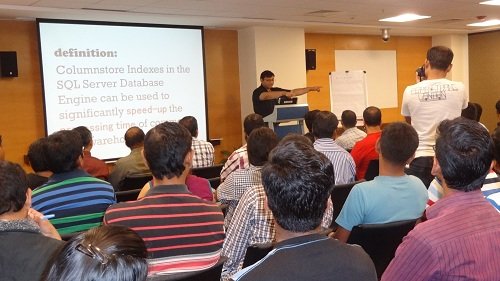 Well, overall we had a great fun with 100+ attendees learning SQL Server.
Reference: Pinal Dave (https://blog.sqlauthority.com)