As a technologist, I love my laptop very much and I do not lend it to anyone as I am usually worried that my settings would be messed up when I get it back from its borrower. Honestly, I love how I have set up my laptop and I enjoy the settings and programs I have placed on my computer. If someone changes things there – it will surely be annoying for me.
Recently at one of the conferences I was attending in, a small accident happened – one of the speaker's hard drives failed. The owner immediately panicked due to this and had no clue what to do. I suggested that he may not be able to show the demos but can still show a few things with the product. He accepted my suggestion and finished the presentation. Good thing everybody looked satisfied. Little did I know that a small accident was waiting for me later that day.
When I opened my SQL Server Denali, all my shortcuts were totally out of order. When I hit F5, instead of executing query, it was opening up some debugging screen for me. I was very much annoyed so I decided to surf the Internet for me to know how I could reset it to SQL Server 2012 default shortcut. There were so many different advices which further confused me. After reading 4-5 different methods, I used the following method to reset my SQL Server 2012 keyboard shortcuts:
Go to SSMS > Tools >> Import and Export Settings…
As I wanted to reset all the settings I selected the "Reset all settings" option, but you can select other options as per your need.
I suggest you save your current Settings; however, in my case, I did not like the current option so I just decided to overwrite my settings.
Here I have two options –  I can either set my shortcut to SQL Server 2012 settings or Visual Studio 2010. I went ahead with the SQL Server 2012 option.
Success!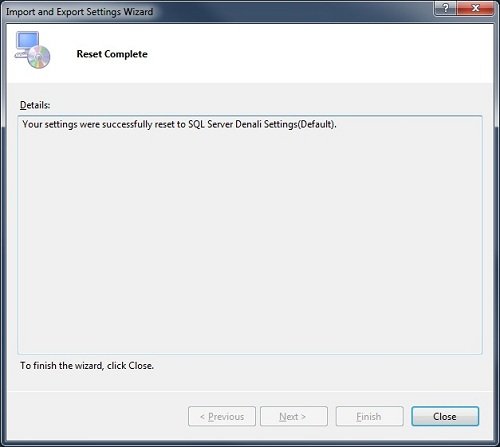 Reference: Pinal Dave (https://blog.sqlauthority.com)