As you all know that SQL Azure CTP has been released; here, I have included a step-by-step guide for how to configure the CTP: SQL SERVER – Azure Start Guide – Step by Step Installation Guide. For pricing and introduction, please read SQLAuthority News – SQL Azure – Microsoft SQL Data Services – Introduction and Pricing. I received many comments times when people are connected to the SQL Azure they receive following error.
Invalid object name 'sys.configurations'. (Microsoft SQL Server, Error: 208)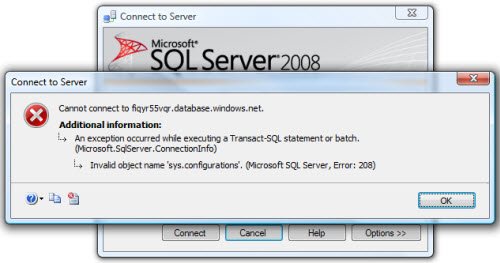 Fix/Workaround/Solution:
1. Close out all the Connect to Server Dialogue
2. Click on the New Query button from the toolbar


3. Enter the following details
Server name: full servername (e.g. (name).database.windows.net)
Login: Your Username (no @…)
Password: Your Password
(optional) 4. Under the options in Connect to Database: type 'master' or 'your own database name'
5. Hit connect
Once you hit Connect, it may give you additional warning, which depends on the server settings. Click OK and ignore all of them. Subsequently, you should be able to connect easily with the server.
If you need any additional details about Azure, I suggest you all to read more about it here.
Reference: Pinal Dave (https://blog.sqlauthority.com)