The Professional Association for SQL Server (PASS) is an independent, not-for-profit association, dedicated to supporting, educating, and promoting the Microsoft SQL Server community. From local user groups and special interest groups (Virtual Chapters) to webcasts and the annual PASS Community Summit – the largest gathering of SQL Server professionals in the world – PASS is dedicated to helping its members Connect, Share, and Learn.
Today was a big day as PASS announced the executive board members for the term starting on Jan 1, 2010. I would like to express my congratulations to all new executives of PASS. Please read official press note here.
The newly elected board members at executive positions are as following:
Rushabh Mehta – President
Bill Graziano – Executive Vice President, Finance
Rick Heiges – Vice President, Marketing
A little bit more details about executives.
Rushabh Mehta is a Mentor for Solid Quality Mentors' global Business Intelligence Division and the Managing Director for Solid Quality India. Rushabh has worked with Microsoft SQL Server since 1998 and has designed and developed BI systems on the Microsoft platform since 2001, including a predictive analysis system, a health-care analysis solution, and a multi-terabyte financial decision support system. He has been the lead architect for many large-scale and complex BI solutions for clients such as Publix, Raymond James Financial, Jackson Hewitt, and Checkers. Rushabh has been an active volunteer with PASS since 2000 and has also served on the board  for a number of years. Rushabh is also a SQL Server MVP and a frequent speaker at large conferences and PASS Chapters around the world.
Bill Graziano is an active member of PASS since 2001, Bill currently serves on the Board of Directors, where he is responsible for the overall marketing for PASS and PASS Summit. Bill co-founded SQLTeam.com, a web site for SQL Server developers and database administrators. In addition to managing the site, he writes articles and helps users with their most vexing problems. An involved participant in the SQL Server community for seven years, Bill was recognized as a SQL Server MVP in 2004 and still holds that designation.
Rick Heiges is a Sr. Solutions Consultant with Scalability Experts working with customers on solutions within the SQL Server environment and educating users on SQL Server 2005 by speaking at user groups, conferences, labs, and road shows across the USA, Europe, and Africa. He holds an MBA and a M.S. in MIS as well as a B.S. in Computer Science. In addition, he also has attained MCTS:SQL2005 and MCITP:DBA certifications.
Not only are these three executives experts in their domain, but have been friends for many years. Here are few of their photos from their activities at old PASS events.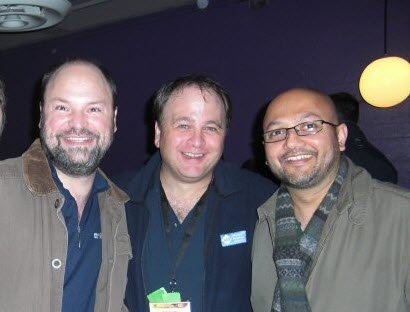 Many congratulations to all of you. SQL Server community has lots of expectation from you and we are confident that you will not only satisfy them but will go way beyond our imaginations.
Reference: Pinal Dave (https://blog.sqlauthority.com)
Image courtesy: Rick Heiges, Rushabh Mehta, SQL PASS