Today's article is not related to SQL Server 100%, however it is quite related to SQL Server, or atleast I found it while working with SQL Server. Just two days ago, while I was working with remote SQL Server using Remote Desktop tool provided by Windows XP. Suddenly, copy/paste feature of windows stop working on remote desktop. I was not able to copy from local machine to remote machine and remote machine to local machine, both ways. I was able to copy/paste from remote machine to remote machine and local machine to local machine.
I thought may be if I restart both the computers it will work (Do not restart your live servers in any case, also restarting is not the solution please read the solution at the end of article). It did not work. I played with few administrative services, again no luck. I was very frustrated for two days as it was very inconvenient to copy/paste and I did not had solution.
After playing with different services and process for a while I found following solution. The solution works perfectly.
First of all go to task manager in remote machine. Go to processes and kill process rdpclip.exe.
After that to go Start >> Run >> type rdpclip.exe and press OK.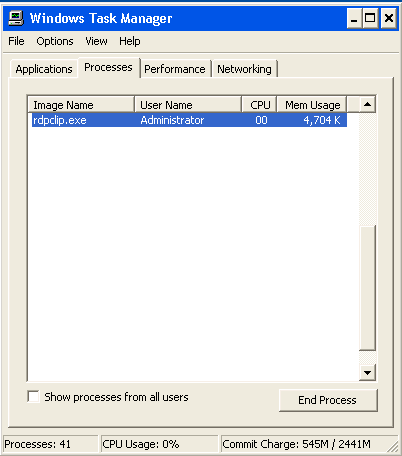 This will fix your remote desktop copy/paste issue.
If you want to share files across remote desktop. Follow following instructions.
Go to Remote Desktop Connections >> Options >> Local Resources >> Local Devices >> Turn on Checkbox of Disk drives and click Connect.
I hope today's article will help users who are facing this problem.
Reference : Pinal Dave (http://www.SQLAuthority.com)