I have been on world tour on SQL Server Performance Optimizations Seminar. The latest seminar was conducted in Colombo, Sri Lanka on Oct 4 – Oct 5. I had previously written about this event over SQLAuthority News – SQL Server Seminar at Colombo Full. This event was oversubscribed and we could not accommodate the last few nominations due to the restrictions of the place. We had total of 35 attendees and the event offered lots of fun. The attendees were a perfect combination – all had few years of experience and many of them were responsible for performance for their server. There were few attendees who were just there to know if SQL Server can deliver performance and what are its tricks.
Warm Welcome
The event was very much welcomed and I received a lot of good feedback. In this event, only few slides were presented – the rule of thumb I had was that I will show only one slide per hour and remaining time I will spend with attendees with real world scenarios and examples. During the two day sessions, we went through many examples, nearly 30 different performance tuning tricks, and tools and understood how performance is often misunderstood with scalability.
What really caught my attention is that many of the attendees thought creating Indexes is the way to improve performance. I had fun time to bust the myth of indexes, and later on, we learned the real trick of how we can improve the performance using indexes.
SQL Horoscope
As attendees were really interested in their current scenario, we did something very interesting during the training. I provided them a couple of queries on the very first day. On the second day, they brought the query results back to me. Based on these query results, we tried to play game where I told them what their server's bottleneck is and what is it used as. The game went for nearly 10 minutes and we had fun time talking to attendees regarding their server.
Real World Scenario
The real world is often quite different from the theoretical world. The issues which we learn in classroom are not the same when we deal with the live production server. I focused on real world scenario and asked attendees to bring their valuable queries and configurations. Together, we discussed about their server and tried to help them out with the next logical steps to improve their server. This was a learning experience for me as well. Every server is new and every server has its own tale to share.
Excellent Participants
No matter how good sessions are, without proper interactive conversations and questions, any session can become boring. As I said earlier, the attendees were very much interested in the subject itself and they really wanted to learn the tricks. Well, I wanted to share my tricks too. It was perfect match – which lead to overall great feedback of the event. I received many emails after the session, I would like to share one here.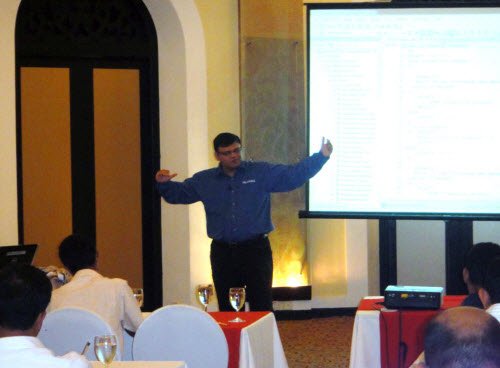 Feedback
Here are some of the feedbacks received on my training in Sri Lanka.
"Many thanks for the email – your seminar was one of the best sessions I attended in my life. You made it so attractive and kept us at the edge of the seat every minute."
"A BIG THANKS to your training, we all are at office and just experienced the first great benefit of your training right now. There was a major issue for almost a month which we discussed with you yesterday where the Java program and the SP tried to access the same table and Java program get stuck. Based on your training we have done some changes to Index & where clause and the problem is sorted out now. Juts now, we have completed. No more table lock and the Java program works fine. Once again thank you very much."
Well, what else I can say, I am overwhelmed with this interest.
Next Seminar
My next seminar will be conducted in Hyderabad on Nov 27 to Nov 28 (Saturday, Sunday). The location of the seminar is at Best Western Amrutha Castle, 5-9-16, Opp. Secretriat, Saifabad, Khairatabad, Hyderabad. The fee for attending the seminar is Rs. 5,000. If you specify the code 'SQLAuthority.com,' you will quality for 20% discount. Send email to indiainfo@solidq.com and pinal 'at' sqlauthority.com to register for the seminar.
You can click here to read more details about seminar.
Reference: Pinal Dave (https://blog.sqlauthority.com)