SQLAuthority.com Book Review :
SQL Server 2005 Practical Troubleshooting: The Database Engine (SQL Server Series) (Paperback)
by Ken Henderson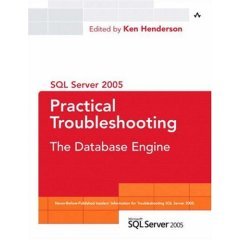 Link to book on Amazon
Short Review :
Database Administrators can use this book on a daily basis in SQL Server 2005 troubleshooting and problem solving. Answers to SQL issues can be swiftly located using the index of this book.This book covers the topics and subjects which any other books, blogs or websites (including MSDN, BOL) do not cover. This book provides DBAs with solutions which can be used by user in highly dynamic environments to resolve common and specialized problems. This book tells user what to do when something goes wrong with SQL Server 2005. This book is an edge case, but is something that can make the difference between a SQL Server application meeting customer needs and it going down in flames. This book is a good place to begin troubleshooting expedition.
Detail Review :
This book will not teach you basic T-SQL from basic and it is not easy and interesting training text book. This book is more like guide to save the troubled time. This book must be read by all the DBA before hand to know what kind of bad (worst!) situation can arise and how this book can be used to prevent the situation or fix it if it has already happened. The authors obviously knows the product very well from inside out, many of the authors are working for Microsoft or MVP. The authors communicate the the topic very well, many places there is lots of code dump, however that is appropriately justified looking at the content covered in the book and direction of the topic taken in the book. The Authors unveils the secretes of SQL Server 2005 internals. We can easily understand how the SQL Server 2005 is working, which helps when something goes wrong.
This book contains many interesting topics. Regular readers of my blog knows that my favorite subject is data corruption and recovery and server crashes and other critical failures. I enjoy writing and researching SQL Server errors and their resolution. It is extremely important to know the common errors and their solution. This book covers errors in depth and in detail. This book tries to cover many subjects in 480 pages, which makes sometime book little heavy to read.
The book covers complex subject very easily and in simple words. For example,
"Last Known Good – When was the last time DBCC CHECKDB reported no errors for this database? SQL Server 2005 saves in the database information about the last time a DBCC CHECKDB was run without errors on the database."
"Run DBCC FREEPROCCACHE. This clears the procedure cache of any cached plans that are not currently in use."
"No matter how accurate the planning or estimate is, you might still run out of space in production. The best practice here is to set up the SQLDiag service to constantly monitor the production system and take action before you run out of space."
This book comes up with CD which contains some useful software (SQL Nexus, TraceBuster, DataDemon) and sample code of the book. I have yet to try the software myself.
Rating : 4 and 1/2 stars
In Summary, This should be a standard book on most DBA's desktops.

Reference : Pinal Dave (https://blog.sqlauthority.com)