I will be presenting following two sessions at TechEd Sri Lanka this week. I am very excited as this is very first time I will be presenting in TechEd event. I have previously presented many sessions but I have never presented at this premier Microsoft Event.
I will be presenting on following two subject.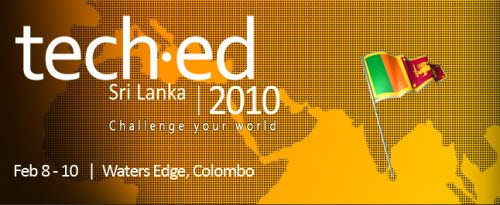 The history of the Log: Change Data Capture (CDC)
Pinal Dave on 8-Feb-10 at 02.00 – 03.15
Learn to capture the history of data using CDC. An age old method of writing queries and triggers to capture change in database table is replaced with much powerful asynchronous method of change data capture (CDC). All attendees will learn how to configure CDC in less than 60 seconds.
The Other Side of SQL Server Index : Advanced Solutions to Ancient Problem
Pinal Dave on 9-Feb-10 at 02.15 – 03.15
SQL Server Index is very powerful tool and when in hand of the less skilled expert, the same tool can be very dangerous for performance and can kill server. This session touches the root base of the how incorrect usage of Index can reduce performance and what is the correct way to implement indexing solution. A problem addressed in the session may be age old but the solutions are looked into with the focus of latest versions of SQL Server.
Along with me there will be other two Solid Quality Mentors – Rushabh Mehta and Joy Ratnayake presenting on various topics. Since announcement of the event, I have already received few emails I promise that one of the evening, I will for sure meet all of you who have requested the meeting.
Reference: Pinal Dave (https://blog.sqlauthority.com)