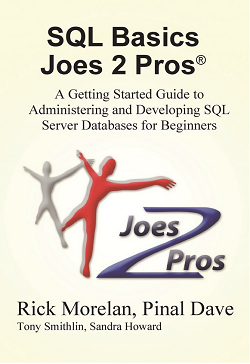 This is the 10th post out of my 10 post series of my videos on my 10th book – SQL Basics. Today will show the importance of data and information.
You can get that in Paperback (USA) and Kindle (Worldwide).
The new breakdown of the Microsoft SQL 2012 certification model offers new incentives and rewards. The entry level certification in the 2012 model starts with one of three certification tests.
In training hundreds of people over that last decade to get their Microsoft certification, to my surprise the biggest benefit you get is something else. The most common benefit my students tell me about is that they get invited to far more job openings after getting certified than they did before. When the stack or resumes gets sorted down, they need a proven reason to keep yours on the short list.
SQL in Sixty Seconds Video
We have attempted to explain the same subject in simple words over in following video.
Action Item
Get the book for yourself and your friend. This is just a reference everyone must have it.
Read the related blog post: SQL Basics: SQL 2012 Certification Path – Day 10 of 10
Available in Paperback (USA), Kindle (Worldwide) 
Reference: Pinal Dave (https://blog.sqlauthority.com)