Earlier this week, I was on vacation and did not check my emails for three days and when I returned, I found six different emails from 4 different people asking for the same problem.
When they attempted to login using their application to SQL Server they faced following error:
Login failed for user 'username'. The user is not associated with a trusted SQL Server connection. (Microsoft SQL Server, Error: 18452)
This is quite a common error and can happen when incorrect username is communicated to SQL Server. The fix is to provide correct username. This can also happen if you are attempting to login to SQL Server with SQL Username but it is only configured to connect to Windows Login. You can quickly fix this error by following steps listed below.
Solution/Workaround/Fix:
Open SQL Server Management Studio and right click on Server Node and select Properties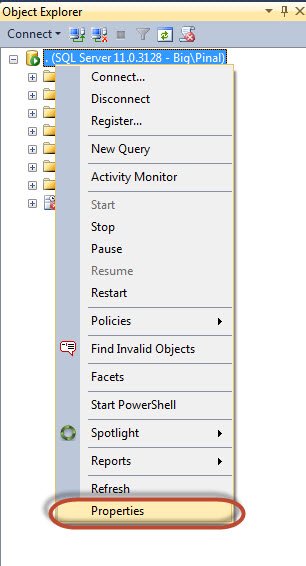 Now go to Security Tab and go to Server Authentical Area. Select SQL Server and Windows Authentication Mode.
You should be able to login with your SQL Server username. If you are not able to login with your SQL Server username after following above steps, it is quite possible your username is incorrect, please check again.
Reference: Pinal Dave (https://blog.sqlauthority.com)