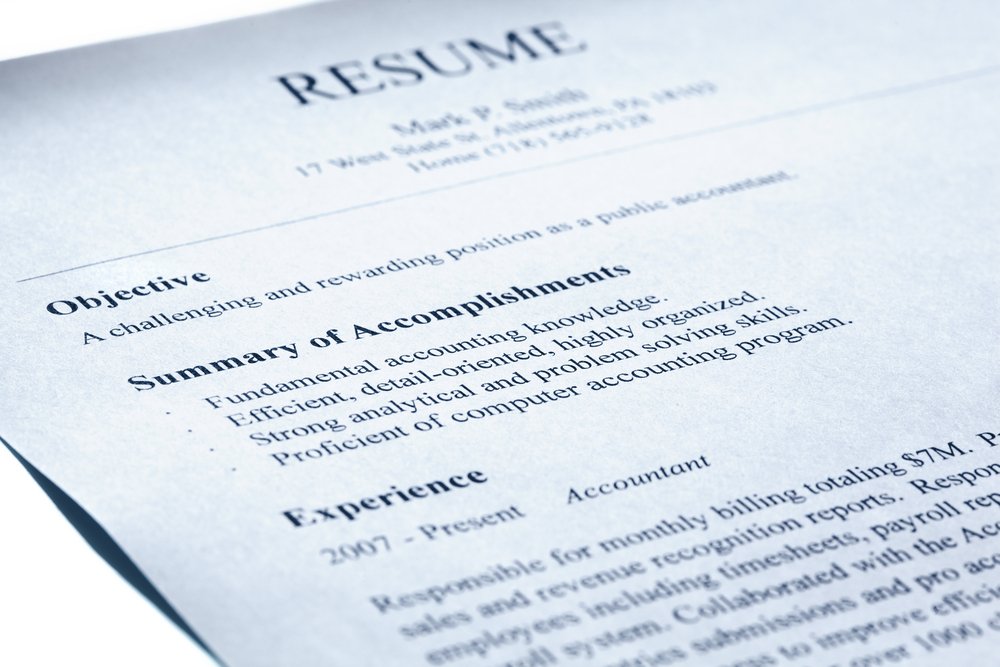 Applying for work can be very stressful – you want to put your best foot forward, and it can be very hard to sell yourself to a potential employer while highlighting your best characteristics and answering questions.  On top of that, some jobs require different application materials – a biography (or bio), a curriculum vitae (or CV), or a resume.  These things seem so interchangeable, so what is the difference?
Let's start with the one most of us have heard of – the resume.  A resume is a summary of your job and education history.  If you have ever applied for a job, you will have used a resume.  The ability to write a good resume that highlights your best characteristics and emphasizes your qualifications for a specific job is a skill that will take you a long way in the world.  For such an essential skill, unfortunately it is one that many people struggle with.
RESUME
So let's discuss what makes a great resume.  First, make sure that your name and contact information are at the top, in large print (slightly larger font than the rest of the text, size 14 or 16 if the rest is size 12, for example).  You need to make sure that if you catch the recruiter's attention and they know how to get a hold of you.
As for qualifications, be quick and to the point.  Make your job title and the company the headline, and include your skills, accomplishments, and qualifications as bullet points.  Use good action verbs, like "finished," "arranged," "solved," and "completed."  Include hard numbers – don't just say you "changed the filing system," say that you "revolutionized the storage of over 250 files in less than five days."  Doesn't that sentence sound much more powerful?
Curriculum Vitae (CV)
Now let's talk about curriculum vitae, or "CVs".  A CV is more like an expanded resume.  The same rules are still true: put your name front and center, keep your contact info up to date, and summarize your skills with bullet points.  However, CVs are often required in more technical fields – like science, engineering, and computer science.  This means that you need to really highlight your education and technical skills.
Difference between Resume and CV
Resumes are expected to be one or two pages long – CVs can be as many pages as necessary.  If you are one of those people lucky enough to feel limited by the size constraint of resumes, a CV is for you!  On a CV you can expand on your projects, highlight really exciting accomplishments, and include more educational experience – including GPA and test scores from the GRE or MCAT (as applicable).  You can also include awards, associations, teaching and research experience, and certifications.  A CV is a place to really expand on all your experience and how great you will be in this particular position.
Biography (Bio)
Chances are, you already know what a bio is, and you have even read a few of them.  Think about the one or two paragraphs that every author includes in the back flap of a book.  Think about the sentences under a blogger's photo on every "About Me" page.  That is a bio.  It is a way to quickly highlight your life experiences.  It is essentially the way you would introduce yourself at a party.
Where a bio is required for a job, chances are they won't want to know about where you were born and how many pets you have, though.  This is a way to summarize your entire job history in quick-to-read format – and sometimes during a job hunt, being able to get to the point and grab the recruiter's interest is the best way to get your foot in the door.  Think of a bio as your entire resume put into words.
Most bios have a standard format.  In paragraph one, talk about your most recent position and accomplishments there, specifically how they relate to the job you are applying for.  If you have teaching or research experience, training experience, certifications, or management experience, talk about them in paragraph two.  Paragraph three and four are for highlighting publications, education, certifications, associations, etc.  To wrap up your bio, provide your contact info and availability (dates and times).
Where to use What?
For most positions, you will know exactly what kind of application to use, because the job announcement will state what materials are needed – resume, CV, bio, cover letter, skill set, etc.  If there is any confusion, choose whatever the industry standard is (CV for technical fields, resume for everything else) or choose which of your documents is the strongest.
Reference: Pinal Dave (https://blog.sqlauthority.com)