I previously wrote about SQLAuthority News – Download – Microsoft SQL Server 2008 R2 Best Practices Analyzer earlier and since then I have received many emails requesting to explain how it works. I assume that you can download and install the tool successfully. Once done just follow the steps listed below. You will be successfully able to test multiple instances of SQL Server using this tool.
Once the tool is launched, select the product you wish to analysis.
Click on Start Scan will take few minutes to analysis the server.
Select the appropriate features to include the analysis in report. I have just selected Engine over here.
Once the analysis is over it will bring three different tabs. Expand the tabs to see your desired results.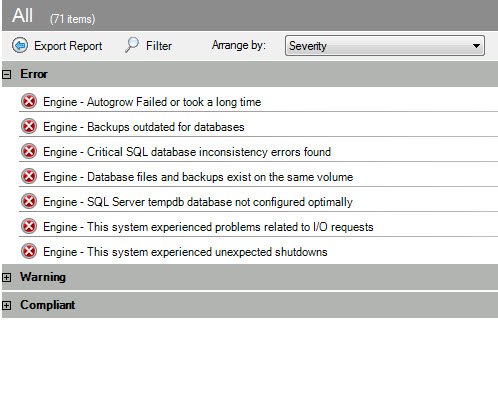 You can further double-click on error screen and see more details about analysis. It also lists few added links for further reading.
You can also export the report in XML format and save it for further usage.
Let me know what your thoughts about this tool.
Reference: Pinal Dave (https://blog.sqlauthority.com)