K-MUG organized TechEd Trivandrum on 27th June, 2009. They even launched an official PASS Chapter in Trivandrum. The complete report of this event is here. This event like TechEd in Ahmedabad,  was a huge success and saw a huge number of attendees from all over India. Jacob Sebastian and Pinal Dave had presented two solid SQL Sessions and created lots of buzz about Microsoft. The event saw many wonderful speakers.I really appreciate the state-of-the-art facility at K-Mug and the amazing crowd brimming with enthusiasm. You can check out K-MUG event page for further information.
I really want to thank two people in particular for making the very first TechEd Trivandrum a grand success – 1) Sreejumon – the Founder and the President of Kerala Microsoft User group and 2) Binoy K – the Vice President of K-MUG.
Let us go over few interesting details about the event.
Pinal Dave explained about PASS Chapters and its benefits. He gave a memorable welcome note to New PASS chapter leaders and the attendees.
Jacob Sebastian inaugurated K-Mug PASS chapter.
Pinal Dave commenced the event with the very first SQL Session of 'SQL Server Best Practices'.
Jacob Sebastian gave a brilliant session on 'SQL Logical Query Execution and Optimization Tips'
Pinal Dave was called again to give a Demo on 'Windows 7' – which came as a surprise to everyone including Pinal. But Pinal made it a real fun by making people laugh while he smoothly and quickly covered all the features of Windows 7 unbelievably in 10 mins!
Jacob Sebastian gave away his book "The art of XSD" to the best participant of the event.
Some of the renowned speakers from all around India were present at the event.
Swami Vivekanand has always been my inspiration and I have always wanted to go to that place where he practiced meditation. I was lucky enough to visit Vivekanand Rock at Kanya Kumari during this trip to Kerala. One more interesting thing which I managed to do in this trip was reading a very useful book The Rational Guide to Building Technical User Communities (Rational Guides) (Paperback) by Greg Low..
Here are few more photos of the same event.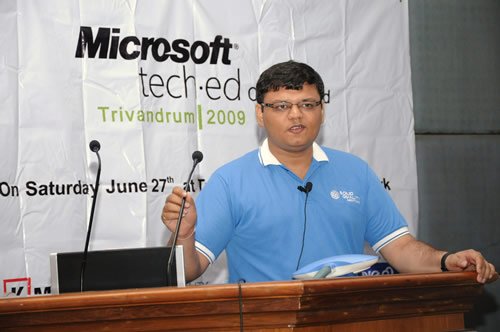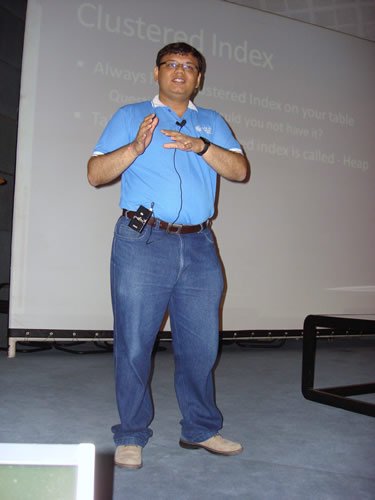 Reference : Pinal Dave (https://blog.sqlauthority.com)